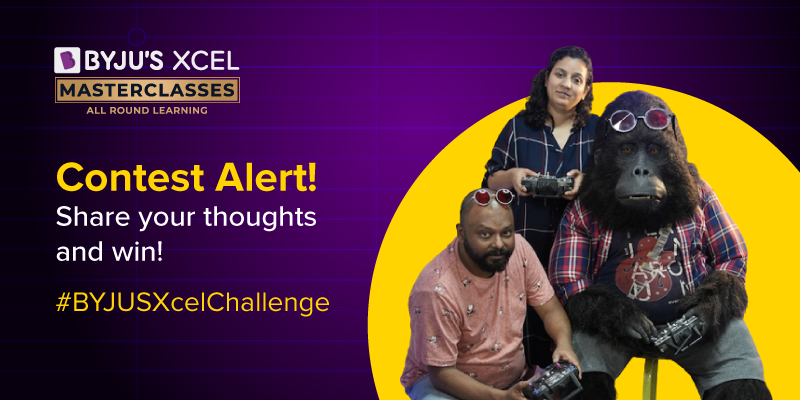 It's back! 
BYJU'S Xcel returns with its latest edition: The Fun Tech Behind Animatronics. In this interactive live session, you can learn how puppetry and technology come together to add life to your favourite movie characters and amusement park rides.
Ever wondered how they filmed the scenes with the Basilisk in Harry Potter? What about Godzilla destroying entire cityscapes? What if we told you that it was not just CGI or a trick of the eye but a fully functional mechanised robot?
Want to know more? Join India's foremost experts in animatronics, Prasun Basu and Gauri Tiwari, in the fourth episode of BYJU'S Xcel as they take you on an hour-long journey unravelling the science that goes into the magic we see on the big screen. The masterclass session goes live on July 17 at 2:00 pm. You can register for the event by clicking on the link below:
Register for BYJU'S Xcel Edition 4 – The Fun Tech Behind Animatronics
But wait, there's more! 
The Xcel session has lots of amazing goodie bags for you! All you have to do is participate in the BYJU'S Xcel Challenge after the session and be one of ten students to win exciting prizes.
Here's how you can participate:
Register

for BYJU'S Xcel Edition 4 – The Fun Tech Behind Animatronics.

Attend the session on Sunday, 17 July 2022, at 2:00 PM.

Take a photo of you attending the Xcel session.

Caption the photo with a few lines answering the question: Which is your favourite animatronic character in movies and why?

Share the photo along with the caption as a post on Facebook or Instagram with the hashtag #BYJUSXcelChallenge

Make sure you tag the official BYJU'S page on whichever platform you post the photo –




Facebook:

@byjuslearningapp


Instagram: @byjus_app


(Please note that posts that do not tag the official BYJU'S handle will not be considered valid entries.)

The best entries will receive exciting goodie bags and be featured on BYJU'S social media channels.

Contest entries will be accepted till 11:59 PM on 20 July 2022.
So what are you waiting for? Register for the upcoming BYJU'S Xcel session and get ready to take your prize home! Hurry!
*This contest is subject to terms and conditions. View the full terms and conditions here.