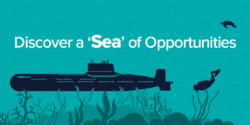 Are you always drawn towards the ocean? Do you love adventure? If you are someone who always wants to do something unique and has an affinity towards a career in science and technology, then you must explore careers in oceanography. Whether your heart lies in medical science or your technical mind loves engineering — the lesser-known world of oceanography offers abundant opportunities. This World Water Day, find a career that feeds your passion and brings you closer to the ocean. 
Marine Biologist
If you are an animal lover who dreams of interacting closely with aquatic life, while studying and collecting data to protect them, then you should consider becoming a marine biologist.   
Marine biology is the study of plants and animals that thrive in seas and oceans. The responsibilities of a marine biologist range from diagnosing and treating aquatic life to studying the conditions of their habitats and the effects of human activities on them. 
In addition to fieldwork and observation at the sea, as a marine biologist, you could also take up research work, laboratory work, and can be associated with aquariums and zoos.
How to Become A Marine Biologist?
A degree in marine biology is not necessarily mandatory to become a marine biologist. You can opt for a bachelor's degree in a related field such as — biology, zoology, engineering or maths and still become a marine biologist. 
To pursue a degree in marine biology, you must opt for science and choose a PCB combination in Class 12. For post-graduation, most colleges would ask for a bachelor's degree in life sciences, either in marine biology or in botany, aquaculture, zoology, biochemistry, microbiology, etc.
Ocean Engineer
Amongst the careers in oceanogrpahy, ocean engineering would be perfect for those of you who love problem-solving and are hungry to enhance and apply your technical knowledge. It is an exciting combination of several categories of engineering — including mechanical, electrical, civil, acoustical, and chemical. 
As an ocean engineer, you would be designing floating structures that are built with raw materials crafted to withstand harsh conditions of the ocean environment. Coastal engineering is a significant part of ocean engineering that focuses on solving problems related to coastal development, such as pollution and waste disposal. An ocean engineer could therefore also be involved in designing and creating systems that soften the impact of storms and other natural shoreline processes that cause erosion or loss of property. 
Path-breaking innovations in the field of ocean engineering have changed man's relationship with the sea. Remarkable discoveries like ocean volcanoes, hydrothermal vents, thousands of miles of underwater mountain chains, and more have been made thanks to ocean engineering.
How to Become An Ocean Engineer?
To become an ocean engineer, you must opt for a PCM combination in Class 12. You can then go on to pursue a bachelor's degree in Naval Architecture and Ocean Engineering. You could also complete your under graduation in similar fields such as Marine Engineering, Civil Engineering, Mechanical Engineering and then continue with a PG in Ocean Engineering. 
Marine Geologist 
If research is your passion and studying oceans is your calling, then you must consider a career in marine geology. 
As a marine geologist, you would primarily be studying the ocean floor — trying to understand how plate tectonics, volcanic activity and earthquakes form the floor of the ocean. You would also need to draft research proposals, travel to locations to gather samples, map geographic areas, record and analyse data, etc.
Often, marine geologists work as a part of a larger research team, with the aim of gaining knowledge on the events that affect the ocean floor and its resulting after-effects. This can include researching how shifting tectonic plates create various environmental disasters such as tsunamis. 
How to Become A Marine Geologist?
A major criterion to become a geologist in India is to have a PG degree in Geology, Applied Geology or Marine Geology. You would also have to qualify for competitive tests conducted by Union Public Service Commission (UPSC) and other respective government bodies depending on the job profile you are applying for.
Marine Engineer
If ships and submarines inhabit your dreams, then you would surely love a career in designing, constructing and repairing marine vessels. One of the most popular careers in oceanography, marine engineering is deeply technical profile which would need you to be creative and have great skill sets in maths, computer science (i.e. software to create blueprints or analyse data) and problem-solving.
A marine engineer usually builds expertise in one vessel or piece of equipment such as seaplanes, boats, cruise ships, freight vessels, submarines, or drilling equipment. As a marine engineer, you would be responsible for a project from start to finish — right from designing prototypes and constructing ships/vessels to testing them for technical issues and further maintaining them. 
How to Become A Marine Engineer?
To pursue a bachelor's degree in marine engineering, you must choose PCM combination in Class 12. In addition, you also need to qualify for JEE to get placed in leading universities. You can pursue a B.Sc, B.Tech or a B.E degree in Marine Engineering. 
Typically a four-year course, the bachelor's degree would give you an understanding of various concepts in marine engineering, such as analysis principles, fluid mechanics, marine structures, sea-wave mechanics, naval architecture, ship dynamics and more. 
You could also opt for a three-year diploma program, for which the completion of Class 12 with a minimum aggregate of 55% is needed. Aspirants will also have to clear the entrance exams designed by institutes offering a diploma program in marine engineering.
Think Big, Think Different
Career opportunities in the field of science, technology, engineering and math are infinite. To be able to use your skills and knowledge to make a difference in the world, to protect marine life, or preserve the environment while doing what you love is surely a wonderful career path one cannot resist.  
Which career in oceanography interests you the most? Tell us in the comments below.
Also read: