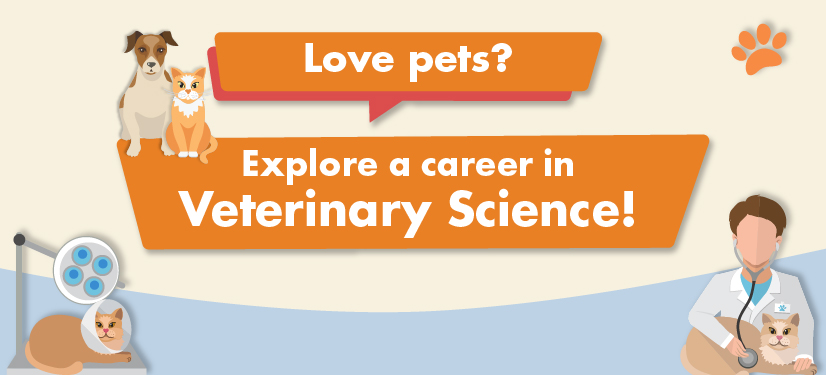 Have animals always held a special place in your heart? If you have the compassion to care for animals and an equal inclination towards the medical field, then a career in Veterinary Science is the perfect match for you. On International Day of Veterinary Medicine, let us delve into the rewarding profession of a veterinarian.
To be an animal doctor, one needs a special form of empathy and intuition in communicating with and taking care of beings that cannot speak for themselves. In fact, these characteristics are most essential to help animals and pet parents.
What makes an excellent vet?
Good attitude towards animal care

Excellent communicator to pet owners

Empathetic and reassuring for support

Organised and efficient for smooth operations

Passion for animal welfare and wellbeing
What does a vet do?
As the name 'animal doctor' suggests, the role of a vet is to diagnose and treat pets, livestock, and other animals experiencing diseases, sicknesses, and other medical conditions. 
Some of the major duties and responsibilities of a vet include providing preventative care like vaccinations and check-ups, treating wounds and performing surgeries, providing emergency care and euthanizing animals, and advising animal owners on care and medication.
Specialised Disciplines in Veterinary Science
In recent times, Veterinary medicine has become increasingly popular as a lucrative profession in India and abroad. In urban areas, pet adoptions are now common practice and people want to take good care of their pets with frequent vet check-ups and treatment against illnesses. Veterinarians with specialisations are also in high demand in the dairy and poultry farming industries to look after animal health.
The government provides ample opportunities as public health professionals in zoos, national parks, wildlife sanctuaries, and even in the defence services. Postgraduates in the field of Veterinary Science can advance further in research and development or become professors to contribute to the betterment of the science.
Here are some of the various specialisations in Veterinary Science:
Companion Animal Veterinarians:

 

Treatment of pet animals like cats, dogs, birds, etc. in private hospitals or clinics.

Food Animal Veterinarians: Treatment of farm animals like cattle, sheep, pigs, and other livestock and educating people about animal feeding and other health practices.
Food Safety and Inspection Veterinarians: Research on major animal diseases and vaccines for the treatment and improvement of animal health and also provide government food safety rules.
Equine Veterinarians: Medical treatment of horses.
Research Veterinarians: Work in laboratories to research and find new forms of diagnosis and surgical techniques.
Veterinary Dermatologist: Diagnose skin disease in animals and perform biopsies, cultures, and skin scrapings.
Veterinary Pharmacologist: Monitoring an animal's progress in veterinary hospitals kept under care.
What do you need to do to become a vet?
In India, you can get admission into good government veterinary colleges on clearing the NEET exam after 12th grade. BVSc or Bachelor in Veterinary Science is the qualification you need to start your career as a Doctor of Veterinary Medicine. The duration of this course is generally 5.5 years including 1 year of internship. Here are some of the courses you can pursue in Veterinary Science:
Bachelor Of Veterinary Science [BVSc] & A.H. (Animal Husbandry)

Bachelor Of Veterinary Science [BVSc] (Animal Nutrition)

Bachelor Of Veterinary Science [BVSc] (Veterinary Pathology)

Bachelor Of Veterinary Science [BVSc] (Animal Genetics & Breeding)

Bachelor Of Veterinary Science [BVSC] (Veterinary Microbiology)

Bachelor Of Veterinary Science [BVSC] (Veterinary Pathology)
For the love of animals and science
Veterinary medicine is certainly a dream career for many animal lovers. Since animals are an important part of our ecosystem, the demand for veterinarians will always be high. Moreover, the experience of relieving an animal from trauma and elongating its life by treating illnesses is very fulfilling. No two days are the same in the life of a vet as they encounter different kinds of animals and have to figure out unique ways to treat them. Being a vet also teaches the virtues of patience and compassion and gives you invaluable learning from a lifetime of interacting with animals.

Frequently Asked Questions
1. Is NEET required to become a veterinary doctor?
Answer:
All medical courses require applicants to attend NEET before admission. One can take the exam after 12th grade or post the completion of a veterinary diploma programme.
2. How many years does it take to become a veterinarian?
Answer:
It takes about 8 years to become a veterinarian. This includes a four-year degree in Bachelor Of Veterinary Science [BVSc]. In addition to this, candidates will need another four years to complete their DVM (Doctor of Veterinary Medicine) programme.
3. Which veterinary course is the best?
Answer:
Some of the most popular veterinary sciences are: 1. Bachelor of Veterinary Science (BVSc) 2. Bachelor of Veterinary Science & Animal Husbandry (BVSc & AH) 3. BVSc in Animal Genetics and Breeding 4. BVSc in Animal Production & Management