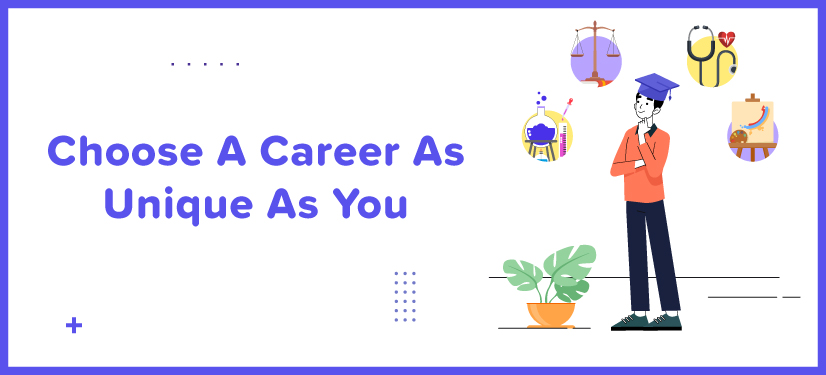 A neurosurgeon? A dentist? An engineer? What do you dream to be?
If you are on the brink of making a career choice after studying in the Science stream, particularly in Physics, Chemistry, Maths, and Biology (PCMB), your career opportunities may not be limited to just a handful of traditional options. Whether you continue to love all things science or you're someone who has reconsidered their passion for the subject, there are ample PCMB career options for all.
How to Choose a Career?
Before you dive deep into exploring PCMB career options, perhaps, you might want to understand how to recognise a course that paves the way to your desired career. Here are a few tips to help:
Align Your Interests with Your Choice
If you've always wanted to take the traditional route of engineering or medical, then you already know the courses that best suit you. On the other hand, if you are someone who wants to pursue something unconventional, like dance, fine arts, defense, etc. — then do your research and look for courses that offer what you are looking for.
Pick a Course of Your Interest
If you have figured out what interests you, the next step would be to find a course that helps you build your knowledge of the subject. Check out college/university websites. Go through the courses they offer and the syllabus under each course to understand if it is indeed what you're looking for.
Weigh the Pros and Cons
If you find a course that takes you closer to your dream career, make sure you understand its financial prospects clearly. It is only logical to choose a career that only feeds your passion but fills your pocket too.
PCMB Career Options — Science and Non-science
Genetic Engineering
Were you always extra attentive in Biology classes about DNA and genetics? Do the complex DNA structure and its life-giving processes fascinate you? If you love biology and wish for a unique career that involves modifying and studying the DNA to improve life, then genetic engineering could be your calling.
What Does a Genetic Engineer Do?
As the name suggests, a genetic engineer specialises in working with genetics in animals and plants. As a genetic engineer, you could either work in a research lab, understanding and modifying the genes of crops to produce quality food, or work as a genetic counsellor for people with rare genetic disorders.
In the food and agriculture industry, a genetic engineer would manipulate crop genes in order to form new variants that are better in terms of quality and quantity. They would also dedicate their work hours to biopesticide production and nutraceutical development.
If your interests are more inclined toward medical, then you could choose to work for pharmaceutical companies, healthcare organisations, research and development companies, universities, or government bodies. Genetic engineering is a very vast field that offers opportunities in ecological, human, conservation, medical, classical, quantitative, molecular, and immunogenetics.
Scope
The demand for genetic engineers soars by the day across the world. Especially in India, there is high demand for genetically modified crops that meet the food requirements of the exploding population. There is a lot of scope for genetic engineers in several sectors including forensic labs, dairy, agriculture, and biomedical industries.
A genetic engineer can also build an exciting career working for huge corporates and startups that solely focus on genetics.
How to Become a Genetic Engineer?
To pursue a career in genetic engineering, you must pick science, specifically the PCMB combination, in your 11th and 12th grades. You can then proceed to get a Bachelor of Science degree in Genetics. You could further specialise by choosing the field of your choice in genetics during post-graduation. There are several options in terms of specialisation in genetic engineering. You could get a Master of Science degree in Stem Cell and Tissue Engineering, Biomedical Genetics, Molecular Biology, and Human Genetics, Microbial Genetics and Bioinformatics, etc.
Graphic Designer
Great visuals always grab attention. You open your social media and double tap on a picture, why? Most often it's because it presents information in an appealing way — making you stop and take notice of what a brand or person is trying to communicate. You are walking down the street and you notice a billboard, why? Possibly for the same reason — it engages you. If you have an artistic mind with an interest in communication, then you could be an excellent graphic designer.
What Does a Graphic Designer Do?
As a graphic designer, you would be spending your day creating functional, effective, and meaningful visuals, either for digital or print media. Your creatives will have to be aligned with a client or your company's needs. For example, you could be asked to design for marketing campaigns, social media posts, print ads, banners, etc.
A graphic designer would have to be creative and must possess the ability to understand the interests of people for whom an ad or a banner is designed. Great communication skills, familiarity with designing software, and a basic understanding of web development are essential for a career in graphic designing.
Scope
Graphic design is a booming industry across the globe. Several surveys predict a huge increment in the demand for graphic designers between 2020 to 2030. This is a result of the increasing digital presence of companies, including tech giants.

As a graphic designer, you could work for advertising agencies, software development companies, video productions, or corporate organisations for branding and product packaging.
How to Become a Graphic Designer?
Completing your undergraduate degree in graphic designing would be ideal as this helps nurture useful skills for a career. It also gives you opportunities to build a portfolio of work that you could showcase to your future employers.
In addition to a degree, you could also certify in popular designing softwares such as Adobe. Make sure you intern as much as you can to gain maximum knowledge and exposure.
Forensic Scientist
Have you ever wondered how fingerprints help solve crimes? Were you ever fascinated by how evidence and clues from the crime scene are so significant in solving a puzzle? If problem-solving is one of your strengths and you have a soft spot for science, then a career in forensic science would be most suitable for you.
What Does a Forensic Scientist Do?
Forensic science can be defined as the application of scientific knowledge and methods in a variety of crime-related settings. The central aim of this science is to discover and study physical evidence through testing and evaluation.
As a forensic scientist, you would:

Collect evidence from crime scenes

Preserve, categorise and analyse evidence

Interpret the data gathered

Assist in court cases

Determine the cause of a crime

Analyse evidence to develop theories on the crime
Forensic pathologists, forensic science technicians and forensic analysts are some of the most interesting career options in forensic science. Some of these professions would require you to pursue a medical course and train in residency.
Scope
With the rate of crimes increasing exponentially across the country, there is indeed a high demand for forensic experts in India. One can build a successful career in forensic science by opting for a job with several government bureaus such as the Central Bureau of Investigation (CBI) or the Information Bureau. There are umpteen opportunities in the private sector too. A degree in forensic science could fetch you a job in legal firms or you could also be hired as a private investigator.
How to Become a Forensic Scientist?
A bachelor's degree in forensic science would be the minimum requirement for a career as a forensic scientist. An undergraduate course would help you gain a theoretical and practical understanding of forensic sciences. You may pursue courses like B.Sc. in forensic science and criminology, B.Tech in cyber security and forensics, and B.Sc in chemistry. A post-graduate degree is not mandatory for most forensic science jobs but employers do value field experience.
Journalist
Have you ever wondered how information is collected, analysed, and interpreted by reporters before presenting it on the news? Journalists assess trends and important issues in various fields such as politics, business, economy, entertainment, sports, and more to deliver significant information to the masses. You would love a career as a journalist if you love current affairs and have an inclination towards mass communication.
What Does a Journalist Do?
A journalist is responsible for unbiased reporting of all that is happening across the world. Journalism is an umbrella term for a field that offers numerous career options. You could choose to work either for television, radio, print (newspaper and magazines), or digital media.
One of the important qualities a journalist must possess is good research skills. While reporting on an issue, a journalist must be informed enough to investigate and analyse the issue to report an unbiased story. A good journalist would also have excellent conversational skills that enable them to conduct impactful interviews and collect vital information.
Scope
No doubt, journalism is a flourishing industry. The number of television news channels, magazines, and digital media houses is increasing each day. With a command over your language — be it English or any regional language — and an inquisitive mind, you could definitely achieve a lot with a career in journalism.
How to Become a Journalist?
An undergraduate degree is a minimum requirement for a position at a media house. Although a degree in journalism will only improve your skillset and knowledge, a degree in related courses such as public relations or even English literature is accepted by many universities.
What are the PCMB career options that you have in mind? Tell us in the comments below!
Also read:
– Indian Army Day: Top STEM Career Options in Defence
– Want To Be a Nurse? Here's How To Build a Meaningful Career in Healthcare
– STEM Careers in Oceanography.
–Is ICSE harder than CBSE