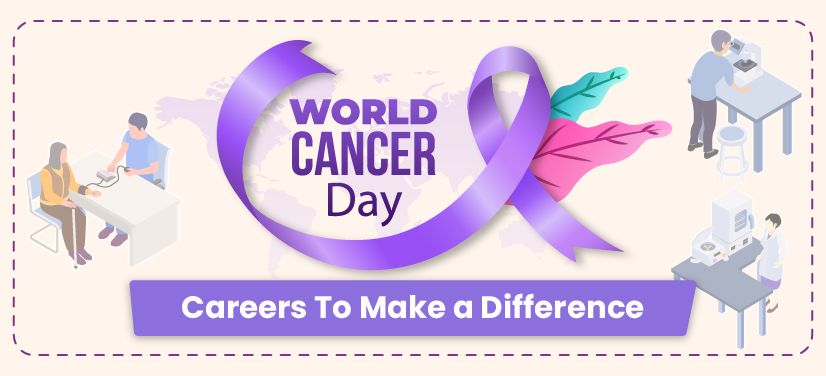 On 4 February every year, we observe World Cancer Day to raise awareness about the disease. We can save millions of lives with prevention, early detection, and treatment of cancer. The theme for this year, "Close the Care Gap" is all about equity in access to cancer care. You, too, can contribute to bridging this gap by opting for a career in cancer care. Here are a few career options that you can pursue to make a difference:
Oncologist
An oncologist is a doctor who specialises in treating cancer patients. Their primary role is to communicate and follow up with the patient about their diagnosis, explain the treatment options available, assist the patient to handle cancer symptoms, and most importantly, remain compassionate and offer quality care. 
Once you are an oncologist, you can pursue job opportunities in India or anywhere in the world. You can choose to work for government hospitals, cancer centres, medical colleges, private hospitals, or open your own practice.
What Are the Types of Oncologists?
Here are the 3 major areas in the field of oncology:
Medical Oncologists: Provide treatment through chemotherapy, immunotherapy, or targeted therapy.
Radiation Oncologists: Provide treatment through radiation therapy to destroy cancer cells or slow tumour growth.
Surgical Oncologists: Provide treatment through surgery to remove cancerous tumours or perform biopsies to help diagnose cancer.
Some of the other types of oncologists who specialise in caring for specific groups of patients or cancers include gynecologic oncologists, paediatric oncologists, geriatric oncologists, neuro-oncologists, and haematological oncologists, among others. Hence, oncology has multiple options for a career in cancer care.
How To Become an Oncologist?
To become an oncologist, you must opt for the PCB stream in your 10+2 exams. Then, after clearing your NEET exam, you must complete a 5-year MBBS degree. After clearing the NEET PG exam, you can pursue an MD (Doctor of Medicine) in general medicine for 2-3 years. The next step is to go for a super speciality course of DM (Doctorate of Medicine) in oncology and complete a 3-year internship under an oncologist.
Biomedical Engineer
A biomedical engineer is someone who collaborates with doctors and researchers to develop medical devices, systems, and tools to help solve clinical problems. This field is a unique amalgamation of healthcare and engineering and can be very beneficial in the prevention, detection, and treatment of cancer. Hence, this is a great option for a career in cancer care. Biomedical engineers have multiple opportunities to work in research centres, hospitals, or clinics as per their specialisation.
What Are the Types of Biomedical Engineers?
Here are some of the types of biomedical engineers based on their roles and specialities:
Cellular, Tissue, and Genetic Engineers: Specialise in studying cells and tissues at the microscopic level to find solutions to problems at a cellular level.
Clinical Biomedical Engineers: Implement technology in hospitals and collaborate with physicians and professionals to handle medical equipment.
Biomedical Equipment Technicians: Design and develop cutting-edge equipment for patient diagnosis and care.
Biomaterial Professionals: Design and develop instruments that can be implanted into the human body to treat medical problems.
How To Become a Biomedical Engineer?
To become a biomedical engineer, you must first opt for the PCMB stream for your 10+2 exams. Then, you must pursue a 4-year undergraduate degree after clearing JEE Mains/Advanced. You can pursue courses such as BTech in Biomedical Engineering, BSc in Biomedical Engineering, or BE in Biomedical Engineering depending on your interests. Upon completing your undergraduate degree, you can pursue 2-year postgraduate courses such as MTech in Biomedical Engineering, MS in Biomedical Engineering, or MSc in Biomedical Engineering to specialise in advanced research. Along with your specialisation course, it is also important that you conduct research by working under a professor or by gaining relevant real-world experience.
Research Scientist
Research scientists are responsible for planning and carrying out laboratory-based experiments and trials. They usually work on one specialisation topic and develop original solutions to various problems. Research Scientists can do wonders in cancer care by studying cancer cells or by discovering ways to cure or prevent the disease. Since Research Scientists work based on specialisations, you must be clear about where your interest lies and pursue that field in your studies. There are multiple career opportunities for research scientists in India or in any part of the world in private and government sectors.
What Are the Types of Research Scientists?
Biomedical Science Researchers: Find ways to understand, prevent, and heal diseases by studying blood, tissues, cells, cultures, and DNA.
Medical Research Scientists: Conduct experiments to improve or develop medicines and treatment-related products. They also focus on prevention, diagnosis, and cause of diseases.
Research Psychologists: Research ways to help patients in their recovery and help treat mental health disorders that may have arisen due to chronic illnesses. 
How To Become a Research Scientist?
To become a research scientist, you must first opt for the PCMB stream in your 10+2 exams. You have to clear competitive exams such as JEE to qualify for 3/4  year-long BTech/BSc/BPharma courses. Then, you pursue your Post Graduation for 2 years in MSc/Mtech. After your masters, you can apply for a PhD, post which you will be able to become a research scientist. In the case of medical research, you can pursue a speciality course of DM (Doctorate of Medicine).
The world is always in need of cancer care professionals in the fields of engineering, medicine, and research. If you're passionate about building a career in the prevention and treatment of cancer, then these career choices might be beneficial to you and the world. You might also be interested in knowing how to become a radiologic technologist since this profession also serves the same domain of cancer treatment.
Do these opportunities for a career in cancer care interest you? Tell us in the comments. Also, tell us which career we should write about next. 
---
Also read: