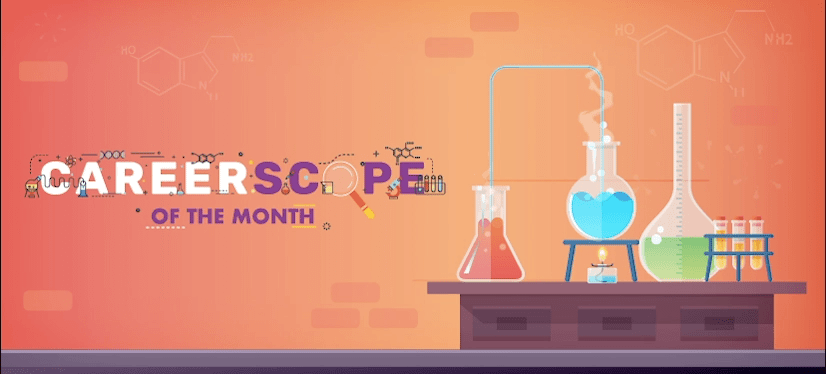 Welcome back, Engineering aspirants!
Last month, we discussed a successful career in Mechanical Engineering. There you learnt about what Mechanical Engineers do, what are the various career options available for a Mechanical Engineering graduate and how you too can become a Mechanical Engineer. This month, let's explore another division of engineering – Chemical. 
What is Chemical Engineering?
Chemical Engineering is one of the most diversified branches of engineering, ranging from biotechnology and nanotechnology to mineral processing, petrochemical plants, pharmaceuticals and petroleum refining plants. 
Who is a Chemical Engineer?
They do the math, science and engineering to make numerous things accessible and easily available to everyone. For instance, they convert raw materials into usable products, such as petrochemicals, medicine, and many other products. In short, chemical engineers are responsible for 'developing economic ways of using materials and energy'. 
What do Chemical Engineers do?
If you think that a chemical engineer sits in a lab all day, combining substances and ensuring that they don't explore, well, you might be only partially right! A chemical engineer also dabbles in areas like food, agriculture, energy, health care, oil and gas, and the environment. Chemical engineers ensure to make medicines – accessible, water – drinkable, the environment- sustainable, fuel – accessible, and discoveries – scalable.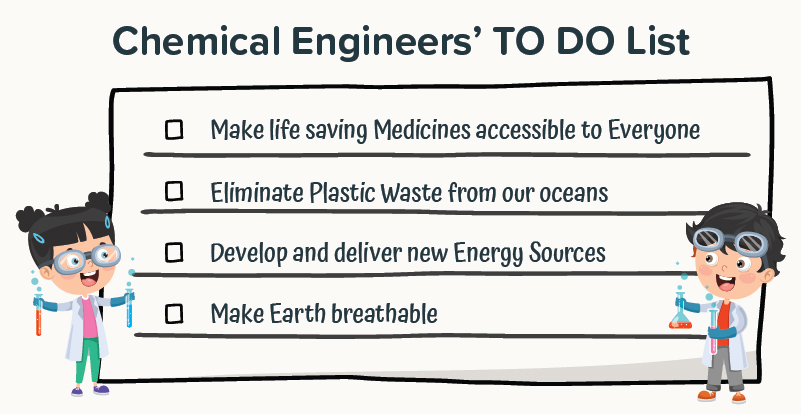 ---
ALSO READ: How to Pursue a Career in Maths!
---
Opportunities with a degree in Chemical Engineering
A degree in Chemical engineering will open doors in many fields, in terms of career opportunities. 


In this field, chemical engineers are hired to ensure that all the equipment used in chemical plants is working according to standards. They need to run tests periodically, check for any troubleshoots, and make or suggest adjustments.

Manufacturing companies need development scientists to understand and control the processes used in making a diverse range of products including medicine, food, cosmetics, paints and machines. Chemical engineers have a major role to play in setting the equipment, ensuring that all the safety measures are met, and also running tests. They work closely with the research scientist in developing new ideas and making scientific discoveries. 

This is one of the most important and crucial fields where Chemical Engineers are required. As food scientists, chemical engineers are needed in evaluating the nutritional value, colour, flavour and texture of food.
In this field, they combine their knowledge in Chemistry, Microbiology and Engineering to test food samples, develop new food products that meet the government, processing and the consumers' standards.

Biotechnologist is another prominent role for a Chemical engineer. They work closely with researchers in manipulating living organisms or their components to design or enhance vaccines, medicines, drugs, food products, and even artificial organs.

Environmental Engineers have a very important role to play in safely keeping the environment from air and water pollution, improving recycling, public health, and waste disposal. 
They apply the principles of Biology, Chemistry, Soil Science and Engineering to develop solutions for environmental problems.

Chemical engineers can also enter the education sector and teach in colleges and universities. With relevant qualification, a Chemistry graduate can either become a full-time Chemistry teacher in a college or university. They can also join online learning platforms like BYJU'S The Learning App and become a subject matter expert while having fun creating interesting subject-related video lessons. 
---
READ MORE: Who is a Biotech Engineer?
---
Top Sectors Hiring Chemical Engineers
As Chemical Engineering covers a wide range of sectors and industries, career opportunities in this field are diversified. Here is a list of top sectors that hire Chemical Engineers:
Oil refineries

Gas and oil extraction

Power generation industries

Pharmaceuticals

Fine and heavy chemical industries

Agrochemical industries

Fibres and Polymer Industries

Beverage Industries

Universities, Colleges and Schools
What do you need to study to pursue a career in Chemical Engineering?
To pursue a career as a Chemical Engineer, you need to follow the below-mentioned path:

Top Colleges in India offering Chemical Engineering courses:
Indian Institution of Technology, Roorkee

Birla Institute of Technology and Science, Pilani

Indian Institution of Technology, Delhi

Amity University, Noida

Indian Institution of Technology, Kharagpur

Lovely Professional University, Phagwara

Indian Institution of Technology, Kanpur

Indian Institution of Science, Bangalore

Galgotias University, Greater Noida
How can BYJU'S help you in your preparation journey?
The first step towards this dream job is performing well in your 12th Board Exams. BYJU'S has programs designed to prepare you for your boards as well as competitive exams. With adaptive and engaging videos, sample test papers for each concept and personalised feedback, BYJU'S employs visual learning methods that will give you the necessary boost to do your best.
Score high with BYJU'S!
Now, you can get a free counselling session with BYJU'S experts at your home to help guide you better.
Click Here to book now!