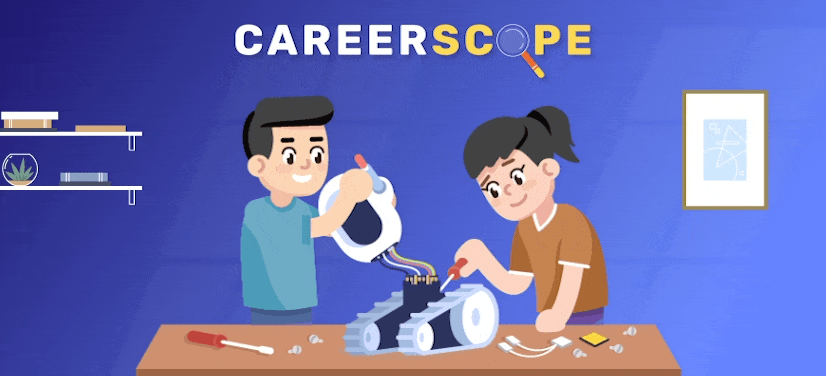 Remember the time when you tried to dismantle your favourite toy car to see what's inside it? Or, sitting with your cousins to play with blocks, you might have tried making the tallest tower despite the pieces falling over again and again. Or perhaps, as a child, you have played with dough and rolled clay into various moulds, bringing your craziest imagination alive.
Chances are you have been an engineer since then, trying to unravel the mystery of how machines work or how structures are built! However, for many of you, as you grew, this curiosity may have either faded or lost its driving force. With a little direction and the right guidance, you can discover yourself and identify your interest in the field of engineering.
Read on, as you discover your interest in engineering and identify your line of interest. In this month's career scope, we will be discussing Mechanical Engineering – what do they do, where do they work and in what ways, you too can become a mechanical engineer!

An engineer is someone who applies their knowledge of science and maths in solving some real-world problems. Their solutions may involve invention of a new product/technology or improvising upon an existing one. Their work focuses on innovations that have the potential to change the world. 
For example, the Persians discovered a way to harness the power of the wind and make windmills in the 7th Century AD. Thomas Alva Edison used his knowledge of science to invent a light bulb in 1879 and the Montgolfier brothers made the first hot-air balloon in 1783. These engineers and many others like them have changed the world we live in through their numerous innovations.
But no two engineering roles are alike. For instance, an aerospace engineer might not know how to help you get rid of your trash or an engineer who knows how to build a car might be absolutely clueless about tools used in a health industry to combat diseases. So depending on the problem and areas of specialisation, there are different types of engineers.
What does a Mechanical Engineer do?
Mechanical engineers are like the backbone of every industry. They deal with designing, developing, and augmenting the efficiency of every tool and machine. Their role is heavily dependent on converting the theoretical representation of a machine into its practical usage. They are usually specialised in designing, production, analysis, and testing, installation, maintenance, and structural engineering.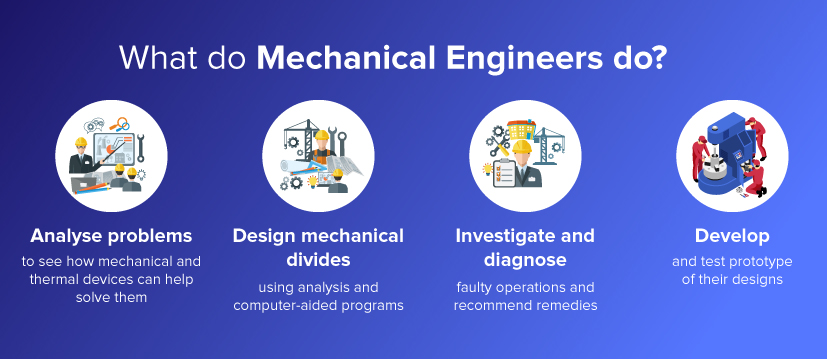 What makes one a capable Mechanical Engineer?
To become a mechanical engineer, knowledge of Mathematics, Physics and Applied Engineering is a must. A sound knowledge of these subjects along with required skills collectively makes a good mechanical engineer.
Also Read: What does a software engineer do?
Career scope of a Mechanical Engineer
Mechanical engineering is one of the broadest engineering fields. It deals with the design, development, installation, operation and maintenance of anything that has moving parts. Because of this, you will find a number of relevant opportunities in a range of sectors under this umbrella. You can explore and choose profiles of your interest.
Top sectors hiring Mechanical Engineers
With a wide range of opportunities from different sectors, here is a list of top employment opportunities for a mechanical engineer:
Aerospace Engineering
Automotive Engineering
Construction and Building Services
Energy Utilities
Government Agencies
Indian Armed Forces and Ministry of Defence
Manufacturing Industries
Railway Engineering
Biomedical Industries
Sports
What do you need to study to pursue a career in Mechanical Engineering?
To become a qualified mechanical engineer, you need to score excellent marks in the entrance exams after 12th and get into a reputed engineering college.

Popular Engineering Entrance Exams
| | |
| --- | --- |
| JEE Main | JEE Advanced |
| BITSAT | VITEEE |
| COMEDK | SRMJEEE |
Which are the top colleges for Mechanical Engineering in India?
Indian Institution of Technology, Roorkee
SRM University
Indian Institution of Technology, Delhi
Birla Institute of Technology and Science, Pilani
Indian Institution of Technology, Kanpur
Amity University, Noida
Indian Institution of Technology, Kharagpur
Vellore Institute of Technology, Vellore
Indian Institute of Technology, North Guwahati
Lovely Professional University, Phagwara
Also Learn: How to become a Biotechnology Engineer?
Pro-tip:
The first step towards this dream job is performing well in your 12th Board Exams. BYJU'S has programs designed to prepare you for your boards as well as competitive exams. With adaptive and engaging videos, sample test papers for each concept and personalised feedback, BYJU'S employs visual learning methods that will give you the necessary boost to do your best.
Score high with BYJU'S!
Now, you can get a free counselling session with BYJU'S experts at your home to help guide you better.
Click Here to book now!