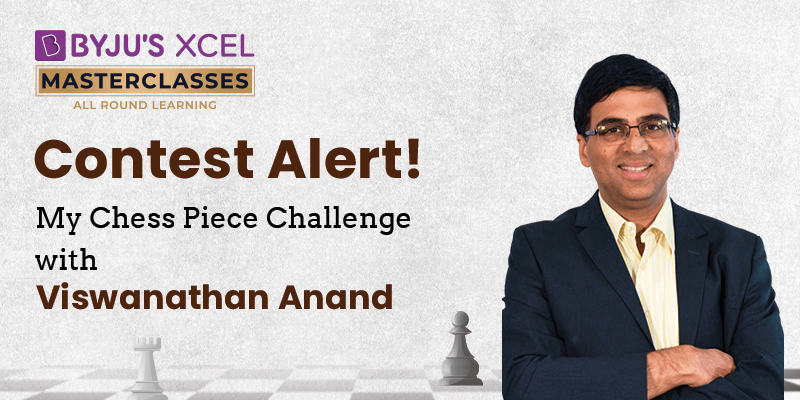 Here is a chance to have your work recognised by the legendary World Chess Champion Viswanathan Anand!
In the latest episode of BYJU'S Xcel Masterclass, interact with Viswanathan Anand as he talks about how you can train your mind to get sharper and stronger. Learn to navigate life and studies as the grandmaster takes us through his journey from playing chess at the age of six and navigating his way to several accolades, including five World Chess Champion titles.
Register for BYJU'S Xcel – Think Like a Champion with Viswanathan Anand
Meanwhile, while you gear up for the Xcel Masterclass session on Sunday, here is a chance for you to feature in the masterclass and have your talents recognised by the grandmaster himself! Participate in BYJU'S Xcel – My Chess Piece Challenge and stand a chance to win exciting goodies too!
How to participate in My Chess Piece Challenge:
Register

for BYJU'S Xcel  – Think Like a Champion with Viswanathan Anand on Sunday, 16 October.

Draw your very own unique chess piece and give it a name. In 100 words or less, explain the special power of your chess piece.
Take a photo of your drawing/scan it and email it to [email protected] with the subject line: BYJU'S Xcel – My Chess Piece Challenge

Mention which class you belong to in the email and your phone number so we can reach out to you to deliver your prize.

The best entries will be featured during the Xcel Masterclass session with Viswanathan Anand, and winners will receive exciting goodie bags!

Entries will be judged on

creativity, adherence to the theme, and the logic behind the naming of the chess pieces.

Contest entries will be accepted till 11:59 PM on 13 October.
*This contest is subject to terms and conditions. View the full terms and conditions here.