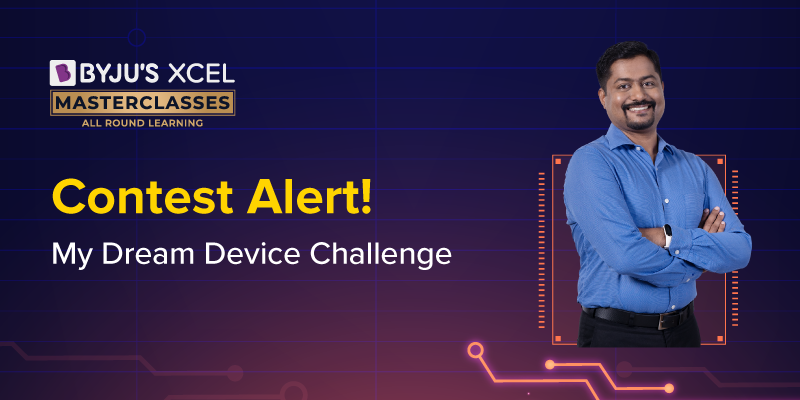 BYJU'S Xcel returns with its latest super fun edition! And you know what that means – yet another fun contest and a chance to share your creative ideas and win awesome goodies.
In the latest edition of BYJU'S Xcel – Sensors: Superheroes in Smartphones, you get an opportunity to learn how sensors give superpowers to your smartphones. Join BYJU'S star teacher, Aswin V, and Internet Of Things expert Anupam Varghese, as they explain and demonstrate how sensors work, not just in your phone, but in your thermometer, smartwatch and much more. Brace yourself for tonnes of excitement, live experiments, DIYs and more!
The masterclass session goes live on Sunday, 4 September, at 12:00 PM. You can register for the event by clicking on the link below:
Register for BYJU'S Xcel – Sensors: Superheroes in Your Smartphones
The Xcel Masterclass session will be followed by a fun contest with some exciting goodie bags up for grabs! All you have to do is participate in the BYJU'S Xcel: My Dream Device Challenge after the session and share your bright ideas with us.
How to participate:
Attend the session on Sunday, 4 September, at 12:00 PM

Using what you learn in the masterclass, tell us (in 150 words or lesser) what cool gadget you would design using sensors.
Send your entries via email to creativeminds@byjus.com with the subject line: BYJU'S Xcel My Dream Device Challenge 

Mention what class you belong to, and also share your contact number in the email. 

Entries open immediately after the Xcel session concludes on

September 4, 1:00 PM

The last date to submit entries is September 10, 11.59 PM. The best entries will win exciting goodie bags and be featured on BYJU'S social media channels.
So what are you waiting for? Register for the upcoming BYJU'S Xcel session and get ready to take your prize home! Hurry!
*This contest is subject to terms and conditions. View the full terms and conditions here.