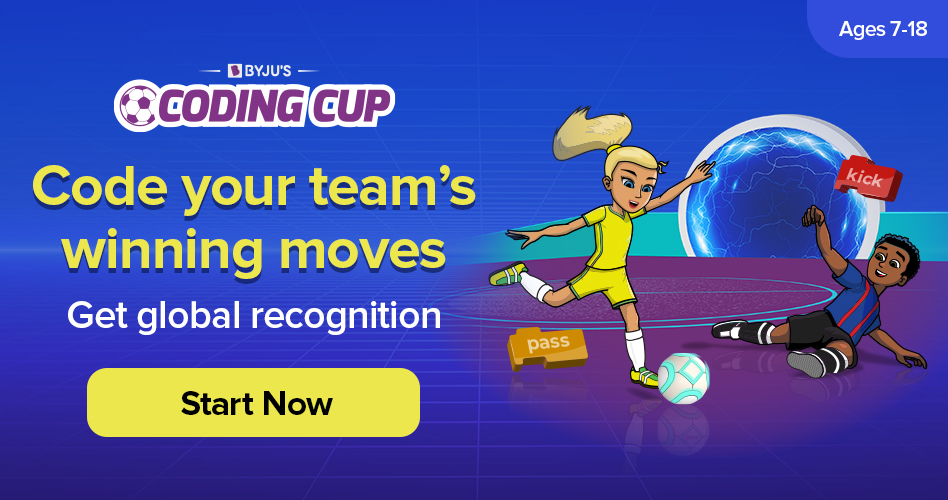 Are you all geared up for the FIFA World Cup? Here's another cup to be excited for! 
Get ready for the BYJU'S Coding Cup, a global coding competition that enables young learners to personalize and program the moves of football players on a virtual "mini-team", and compete against other teams around the globe. The BYJU'S Coding Cup is the first coding skills competition of its kind for students. 
The BYJU'S Coding Cup is developed by Tynker, a BYJU's company and one of the world's leading K-12 creative coding platforms that empowers kids to be creators. The BYJU'S Coding Cup is accessible to students aged 7-18, regardless of their skill level or experience with coding. You can customise your footballers' avatars, style your team's jerseys and cleats, and train players using conditional logic commands. Then, using artificial intelligence (AI), you can compete on the virtual field to determine whose code has the winning strategy to rise in a globally-ranked leaderboard.
The BYJU'S Coding Cup season is now officially underway and you can sign up for free to begin outfitting players, building and training their roster, and coding your own unique team playbooks. Each participant will train a mini-team of three players – a striker, a defender, and a goalkeeper – by learning basic coding skills from a virtual coach. You can also customize the appearance of your teams by selecting from a diverse range of characteristics, ranging from hair and eye colour to skin tone and gender.
After training a team and learning the basics of coding, you can test your skills in practice games against yourself before moving on to a match with other teams participating in the BYJU'S Coding Cup. To sharpen your individual strategy, you can rewatch your own matches, or those played by another team, to foster a virtual community where students learn from one another. For every winning match, teams will be ranked in a global leaderboard that is updated in real-time.
Participation in the BYJU'S Coding Cup is free and the BYJU'S Coding Cup season will conclude on December 21, 2022, when the competition winners will be announced. Over 100 prizes are up for grabs, awarded to the top-ranked players including branded sports merchandise, exclusive certificates and cash prizes. 
So, what are you waiting for? Sign up now, create your teams and get coding! 
For more information, and to see the Official Rules for the BYJU'S Coding Cup, please visit here.