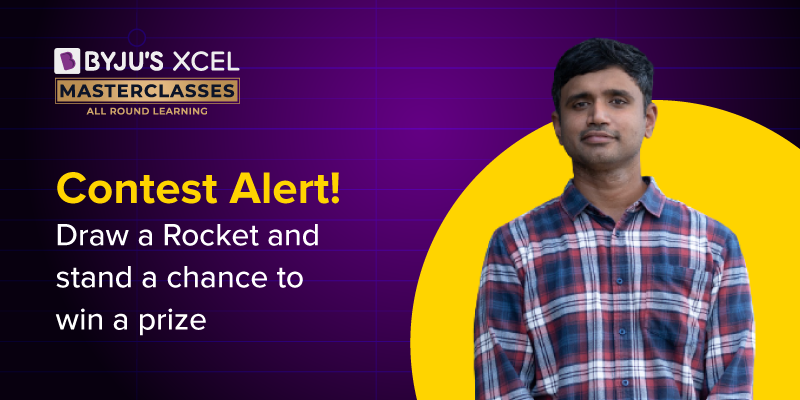 It's time for yet another edition of BYJU'S Xcel, and you know what that means – another fun contest and a chance to win awesome goodies!
The latest edition of BYJU'S Xcel will celebrate the evolution of space technology in India. Join this fun, power-packed session with space entrepreneur Srinath Ravichandran, CEO & Co-founder of AgniKul Cosmos, one of India's earliest private space technology companies. In this interactive session featuring live experiments – called It's Rocket Science – we will explore everything from how rockets are sent into space to what happens after a successful launch and more. 
Like every other BYJU'S Xcel session, this is going to be another exciting one that you don't want to miss! The masterclass session goes live on August 14, Sunday, at 11 am. You can register for the event by clicking on the link below: 
As always, there are some exciting goodie bags up for grabs! All you have to do is participate in the 'Draw a Rocket Challenge' after the session. All you have to do is combine the knowledge you gain in the session with your imagination and draw your dream rocket. Also, tell us what you would name your rocket and why. 
How to participate:
Draw your dream rocket.

The theme of the contest is 'India@75'.

Once you are done with your drawing, suggest a name for your rocket and the reason behind it. 

Take a picture of the drawing, and email it with the description to

creativeminds@byjus.com,

with your name, class, and phone number. Do not forget to add the subject line —

It's Rocket Science

when you send in your entries.

Entries open immediately after the Xcel session concludes on August 14 at 12 pm. We will be accepting entries until August 20, 11.59 pm.
Exciting prizes to be won! 
The 10 best entries (five from Classes 4 to 6 and five from Classes 7 to 10) shall receive goodie bags comprising a PSLV Rocket Aluminium Scale Model and a set of 15 ISRO Story Stickers. The winning entries will also be featured on our social media channels – Instagram and Facebook. Results will be announced on August 28, 2022.
So what are you waiting for? Register for the upcoming BYJU'S Xcel session and get ready to take home your prize! Hurry!
This contest is subject to terms and conditions. View the full terms and conditions here.