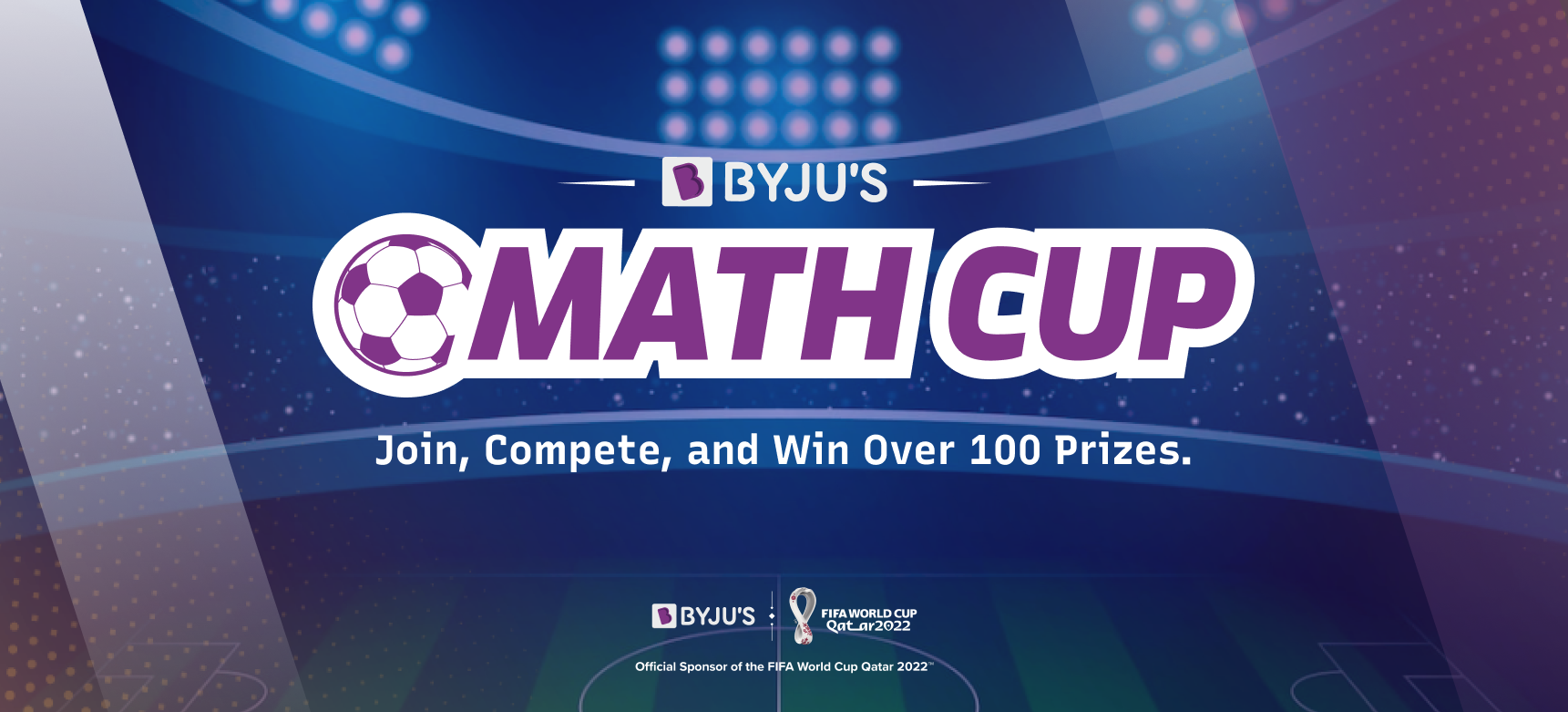 As we wait with wild enthusiasm for the FIFA World Cup 2022, BYJU'S plans to switch up the excitement with a new online football tournament – BYJU'S Math Cup! Participants can use their math skills to compete online with football enthusiasts worldwide in this unique competition. How cool is that!
Here are some quick FAQs to clear all your doubts!
What is BYJU'S Math Cup? 
It is an online skill-based competition where you can upskill your team by solving challenging math puzzles. You can then win exciting cash prizes by topping the global leaderboard!
Who is Eligible for BYJU'S Math Cup? 
These are the countries you must be a legal resident of to participate – India, New Zealand, Australia, the UK and the US plus the District of Columbia (except for Puerto Rico, Guam, the Virgin Islands, and other US territories) and Canada (excluding Quebec). You should be between the ages of five and fourteen to participate, with parental or legal guardian consent if you're under thirteen.
How to Participate in BYJU'S Math Cup?
The process is easy. Create your profile after registering HERE, choose your virtual team, click 'Join' and start playing!
When and How to Play BYJU'S Math Cup?
The competition has two seasons, one in the month of November and one in December. For Season 1, the leaderboard will be live from November 8, 2022, to December 3, 2022, and for Season 2, from December 4, 2022, to December 31, 2022. These dates may be subject to change; all such updates will be noted in the Official Rules.
Create a virtual team with a goalkeeper, defender, and striker, and train them.

Earn skill points for your team members through training by answering math questions.

Redistribute those points between your three players to create the perfect combination.

Play matches, and increase your rating on the leaderboard to become the winner.

The ranking system is Elo-inspired, meaning that wins, losses, ties and the opponent's ranking are used to calculate player rankings. 

A player's rank changes according to their team's wins or losses, which can be tracked in the dashboard's 'Leaderboard Ranking' area. 

A player starts with 1500 points. The one whose team gains the most points in the leaderboard will be given the first-place title.

Suppose there is a tie for first, second, or third place. In that case, the decision on who gets the relevant prize will be made by a panel of eight (8) judges who will select the overall winner based on the following criteria of 30% completion and 70% accuracy.
Apart from this, the top three winners of each season stand to win cash prizes, details of which can be found in the Official Rules section! 
So what are you waiting for? Head to byjusmathcup.com and start playing!