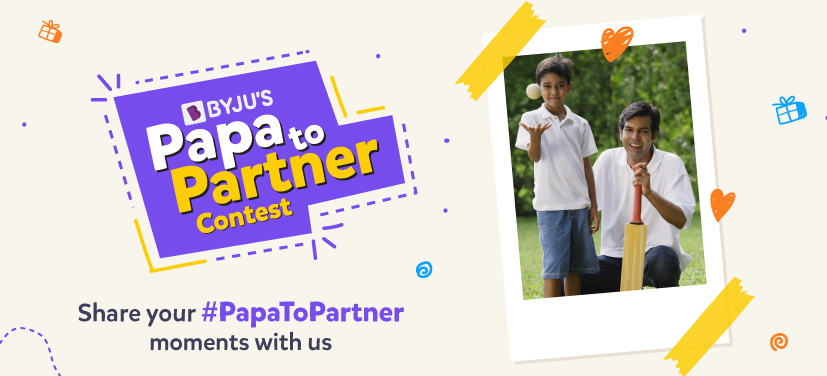 There's no denying that dads know best! They are always the ones with a heart of warmth, energy radiating, brimming with eagerness to teach you everything they know. But some fathers are a little reserved, a little less talkative – loving and protecting you silently. 
But then there are moments! 
Moments that come out of nowhere, when your papa turns into your best friend! He becomes your perfect partner in crime, tagging along and sneakily doing those things that you know would incur mom's wrath! He watches your favourite cartoons and shows, helps with your school work and plays your favourite game. He is the one who believes in your dreams and would do anything for you to achieve them. And while in the middle of all these fun things, he also teaches you those good lessons that we all need when life puts our boat in troubled waters.  
This Father's Day, BYJU'S is celebrating the moments your papa turned into your best partner. If you and your pop grew up pulling pranks on the rest of the family if you have moments with your papa where he totally became your partner in crime or told you a cheeky story from his childhood and you both laughed for hours then this is the contest for you! 
Share your #PapaToPartner moments with us and win KINDLES and LOTS OF OTHER SUPER AMAZING GOODIES!
Here's how you can participate:
1.Head over to Instagram and share your #PapaToPartner moment as a photo/video OR Mail it to creativeminds@byjus.com
2.Follow @byjus_app on Instagram
3.Tag @byjus_app and use #PapaToPartner in your entries on Instagram
4.80 Lucky winners stand a chance to win Kindles and other amazing goodies
5.Send in your entries on or before 23:59 on 23rd June, 2021
Terms and Conditions for the contest:
1. BYJU'S #PapaToPartner Instagram Contest. To participate in the contest, users must share their #PapaToPartner moments in the form of an image/video along with a short description.
— All entries must be shared using the hashtag #PapaToPartner
— One should follow the BYJU'S Instagram page i.e, @byjus_app
— Those with private accounts can either drop a DM or mail their entries to creativeminds@byjus.com
2. This contest is open till 23:59, 23rd June 2021.
3. The winners will be selected in 3 lots:
— 10 lucky winners will get a Kindle
— 20 lucky winners will win BYJU'S Gift Hampers/Amazon Vouchers worth INR 2000
— 30 lucky winners will get BYJU'S Bags/Amazon Vouchers worth INR 1000
All the winners will be selected at random, after the competition deadline of 23:59 on 23rd June, who have fulfilled the criteria (1) above. Entries made after this point will not be counted.
4. The contest is open to everyone and does not have age restrictions.
5. If you are a lucky winner, you will need to provide your
— Instagram account name
— Email id
— Contact Number
— Home Address
— Further details will be provided by BYJU'S social media team.
6. Only one entry per person will be accepted. In the event of multiple entries being received from one single IG account, the first entry only will be accepted.
7. Parental guidance is advised for children aged 13 and below.
8. We reserve the right to exclude any entries which we believe are inappropriate, fraudulent, or based on misconduct.
9. The prize is non-transferable, non-refundable, and cannot be exchanged for cash alternatives in the whole or in part.
10. By taking part in this contest, all participants offer consent to us for collecting, storing, and publishing their contest entries on BYJU'S social media channels for marketing purposes related to this contest.
11. This campaign is in no way sponsored or endorsed or administered by or associated with Instagram. You are providing your information to BYJU'S and not to Instagram.
So what are you waiting for! It's time to send in your entries and win exciting goodies! 
Hurry! Last day to submit is June 23, 2021