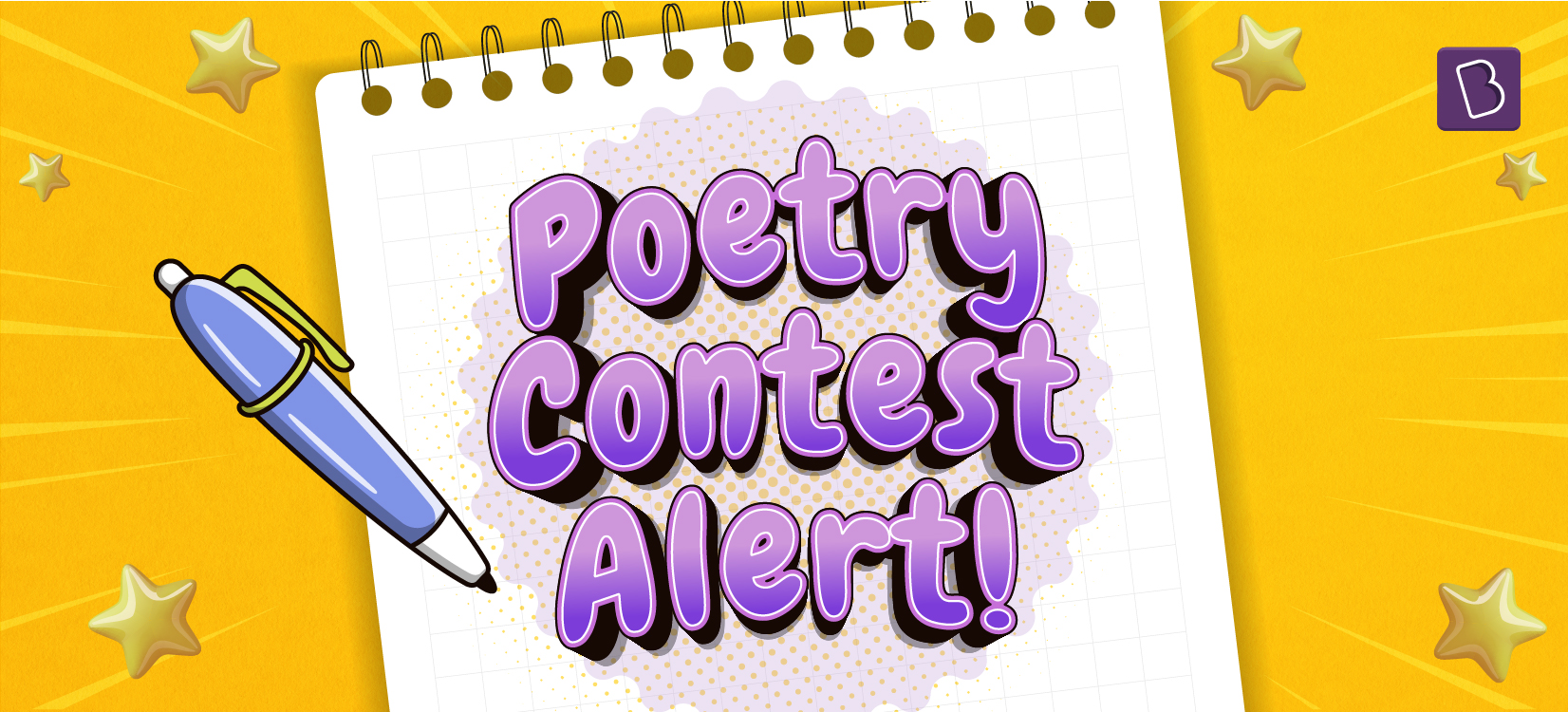 We all love poems. They are wonderful. They have rhymes and rhythms, and we can recite them eloquently in front of our family and friends. Keeping this in mind, we shared a step-by-step guide on how to write a poem. That is why we are excited to announce a Poetry Writing Competition for our young poets! 
We are super excited, are you? Here are some things to keep in mind while submitting your poems for this competition. 
(Click to read the section)
Poetry contest instructions for parents
If your child has never written a poem before, use this

step-by-step poetry writing guide

to help them write one. 

Submit a clear photo of an original poem that your child has written. It has to be in your child's handwriting. Ask the child to write on white paper with a dark pencil or pen to ensure legible handwriting. You can also choose to send a scanned copy of the paper. 

Do not edit the poem in any manner. Do not fine-tune it or suggest any changes. Submit it in its raw form. If your child has written many poems, submit any three for consideration. At this point, we must encourage writing poems, finesse will come with time. 
Winning criteria for the poetry writing competition
Entry criteria is 

Readability: How easy is it to read the poem?

Structure and flow: How well are the thoughts organised in a poem?

Personal voice: Does the poem reflect the personality or perspectives of the poet? 

If your poem meets the requirements for entry, it will be accepted into the lucky draw. 

Winners will be revealed for each grade (LKG to Grade 6) separately. 

E-certificates for participation will be awarded to all participants. 

The last date to send your poems is

15 July 2023. 
Prompts to get your child started
Writing a poem can be quite hard in the beginning. To get your child started on the poetry writing journey, you can use the following prompts. Original ideas and poems are always appreciated; however, these will give your child some context to build on. Most young ones would surely love the head start!
Here are some prompts:
I have a

pet

; That's just

great

!

I want a

superpower

; To turn a rock into a

flower

. 

I went to the

park

; We stayed until it was

dark

. 

I like

adventure

; Especially in

winter

. 
Be gentle on your child as they work on their poems. Encourage them to read them out to family and friends. Put them on the wall. Encourage and inspire them to explore this craft further. You could also read out good, funny children's poems to them to motivate them. And, soon, your child will start crafting wonderful poems. 
The last date for the poem submission for this Poetry Writing Competition is 15 July 2023. Looking forward to reading all the incredible poems! Good luck!