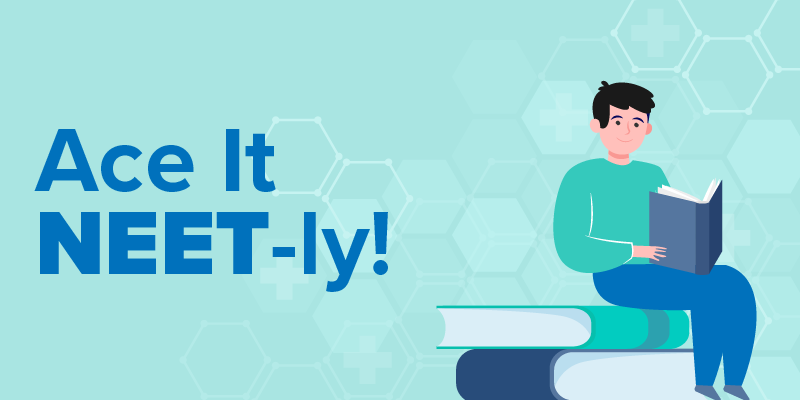 Every year lakhs of medical aspirants appear for the – National Eligibility Cum Entrance Test (NEET). Only half of them qualify for a limited number of seats in premier medical colleges of the country. Needless to say that the stakes are high for the students when it comes to clearing this exam. This is why we have compiled a list of tips for you on how to prepare for NEET.
Know the Syllabus
This is the first step in the preparation process. If you're a NEET aspirant, then ensure you have complete information regarding the latest exam syllabus, paper pattern, etc. While you're at it, make sure that you keep a track of the board exam syllabus also. This will help you cover important topics common to the board exams and NEET at the same time. Thereby, saving you some time, which you can use to study concepts that are remaining and unique to the NEET papers.
Learn. Revise. Repeat
The second step is the most important one. You need to divide the syllabus into various sections and make sure you learn all the important concepts first. You can use the recommended study material or watch video lessons to get a solid conceptual understanding of the topics. Ensure that you revise all the topics you have studied during the day before you sleep. To retain the concepts better, remember to do a weekly revision.
Practice Makes Perfect Scores
The NEET paper is 3 hours long and consists of 180 questions. Each correct question gets you 4 marks and each wrong answer gets you a -1 mark. Needless to say that stakes are high and time is of the essence. Practising PYQs or NEET sample papers will give help you acclimate to the exam and manage your time better. Make sure you also take mock tests to improve your accuracy and analyse your performance beforehand.
Stay on Track With a Study Schedule
It's no secret that the NEET syllabus is huge. To crack the exam, you need to have a schedule in place. You also need to keep a track of your time and progress. While drafting your study timetable, make sure you don't overwhelm yourself by setting unrealistic targets. Prepare your schedule in such a way that you have sufficient time to cover concepts that you struggle with. Give yourself the time to revise all concepts and take regular practice tests, too.
Take Care of Yourself
Lastly, ensure that you keep your exam schedule wholesome by allotting some time for your wellness too. Make sure you get adequate sleep and eat nutritious meals. Avoid beating yourself up over mistakes. Just ensure that you prioritise health alongside your studies because you don't want to fall sick and lose out on opportunities.
Here's a Your How to prepare for NEET Checklist
Fortify preparation in chapters that carry more weightage of marks

Make short notes, flashcards, formula charts to make revision smooth

Practice PYQs daily and take mock tests weekly to assess preparation

Get the right amount of rest and nutrition to stay healthy and focused

Take optimum breaks for self-care to unwind and rejuvenate
Armed with these pointers, we're sure you'll ace this exam and give wings to your dreams of becoming a doctor.
Also read: 
Why Is Physics So Hard? Here Are 5 Tips To Improve
Frequently Asked Questions
1. How to prepare for NEET in 3 months?
Answer:
NEET syllabus comprises concepts from classes 11 & 12. Therefore, it's not feasible to prepare for it in just 3 months.
2. How to prepare for NEET from class 9?
Answer:
You can start by strengthening your basics. Make sure that you learn concepts by understanding and not mugging up. A strong base in science subjects is the first step in NEET preparation.
3. How to prepare for NEET from class 11?
Answer:
The key is to take the right subjects after class 10 and make sure you study regularly to gain conceptual knowledge. You can also get the right coaching from top teachers to prepare better.
4. How many hours a day should I study for NEET?
Answer:
Experts say that one needs to study for at least 12 hours a day to crack the exam.
5. When should I start preparing NEET?
Answer:
Generally, most students begin by the time they are in class 11.
Answer:
NEET is one of the toughest exams in the country. There is high competition and limited seats, coupled with negative marking, making it hard to crack.
7. How to prepare for NEET at home?
Answer:
It's possible to prepare for NEET at home with regular practice, self-analysis, and focus.
8. NEET preparation tips by toppers?
Answer:
1. Balance the prep for board exams and NEET. 2. Focus equally on all 4 subjects – Physics, Chemistry, Botany and Zoology. 3. Set realistic daily, weekly, monthly targets, and achieve them. 4. Take breaks to avoid burnout.