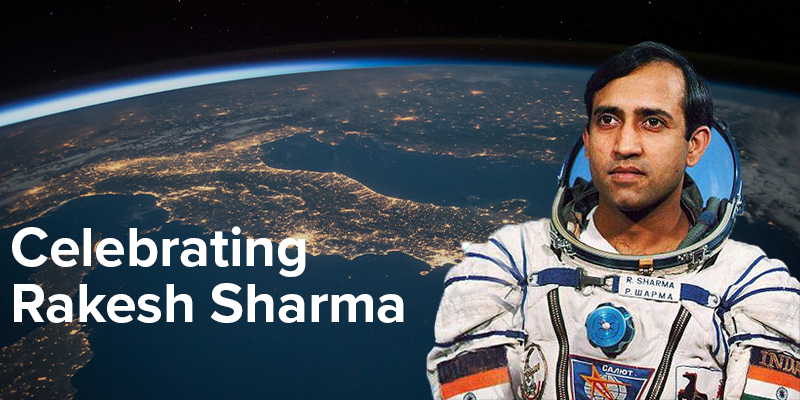 You may have learnt about the first Indian who set foot in outer space – Rakesh Sharma.
He ventured into space and spent over 7 days, 21 hours and 40 minutes aboard the spaceship Soyuz T-11. He was a part of a three-member crew in the India-Russian expedition. On his birthday on January 13, let's take a look at some interesting facts about the 73-year-old retired Wing Commander.
He was a pilot in the Indian Air Force
Rakesh Sharma was a pilot in the Indian Air Force when the Indian Space Research Organisation collaborated with the Russian Space Agency to engage in a joint expedition to outer space. He was chosen among 150 other Indian candidates to venture into space along with his Russian counterparts. 
For nearly two years, he had to undergo rigorous training in Russia to prepare himself to survive the conditions in Space. 
He performed Zero gravity yoga while in space! 
Travelling to space is no easy feat and sustaining the ordeal is equally difficult. However, Rakesh Sharma went the extra mile and practised yoga! Yes, you read that right! 
To tackle space sickness [When you have space sickness, you feel dizzy, nauseous and loss of appetite because of the absence or reduction of gravity], he performed zero gravity Yoga, which involves doing yoga while hanging from the ceiling of the spaceship. He also recently encouraged aspiring cosmonauts to carry forward his legacy to perform zero gravity yoga as well.
He had pulao and chole in space!
A true Indian in spirit, Rakesh Sharma wanted to take a piece of the country with him into the great beyond. So he took some of his favourite food! With the help of the Defense Food Research Lab situated in Mysore, he managed to transport suji halwa, aloo chole and veg pulao. He also shared it all with his fellow Russian cosmonauts.
He has won awards from India and the Soviet Union
Rakesh Sharma was such an integral part of the joint India-Russia space expedition, he was conferred with prestigious awards by both countries. While India honoured him with the highest peacetime bravery award – the Ashoka Chakra, Russia awarded him the Hero of the Soviet Union award. This makes him the only Indian to have been awarded such an honour by Russia! That's highly prestigious, isn't it? 
Love of flying made him stay a pilot even after retirement
After his space expedition, Rakesh Sharma continued to serve the Indian Air Force until 1987, when he retired. His love for flying, however, gave him a second innings as a pilot at Hindustan Aeronautics Limited. He officially hung his boots in 2001. 
What is your favourite bit of trivia about India's first astronaut? You may also want to check out the list of famous firsts in space! The comments section is open for you to leave your thoughts. 
You can also read about: What games do astronauts play in space?