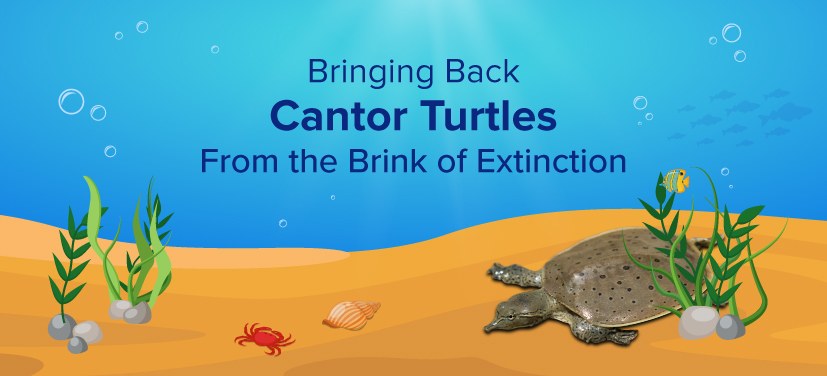 Have you ever heard of turtles that have soft and flat shells? Well, that's not a turtle, you might think! But they do exist! 
For the uninitiated, soft-shelled turtles are turtles that have lighter and more flexible outer shells. These reptiles are good swimmers and solitary creatures which are interesting to study and observe. Unfortunately, most of the roughly 30 species that come under this category are either vulnerable, endangered or on the brink of extinction.  
One of them is the Cantor Turtle – one of the largest of its kind. They haven't been sighted in a decade in India and experts suggested that they are almost extinct.
However, the good news is that the efforts to conserve them are slowly paying off. As recently as May, some Cantor Turtle hatchlings were released into the wild.
How were they rescued?
In 2020, a group of conservationists from Kerala found some eggs of the Cantor Turtle species. They then sensed that these species have to be conserved and began work immediately. 
They partnered with the Zoological Society of London, the National Geographic Photo Ark fellowship, and The Mohamed bin Zayed Species Conservation Fund to preserve these soft-shelled reptiles. These eggs were incubated for over a year and the hatchlings were released back into the wild. 
This is one of the many significant attempts. In fact,  several countries, including Vietnam and Cambodia have been attempting to conserve these soft-shelled reptiles. 
Simultaneously, a nest protection team in Cambodia is conserving several eggs of Cantor Turtles. They have also released some incubated hatchlings into the wild!,
Brink of Extinction?
Right from the 20th century, these species have been considered endangered. In some places, locally, they are even said to be on the brink of extinction.  
In India, they had not been seen for a decade until the teams of conservationists from Kerala partnered with the London Zoo to conserve the eggs and release the hatchlings to the wild.
Why is their kind endangered? 
Their existence has been under threat from local people who kill them for meat. Human encroachment has led to destruction of their habitat and sometimes they are killed by accidents as well. 
But the good news is that the efforts to preserve these large turtles are ongoing.. This joint effort from India and London will have more of these rare species thriving in the wild.
How different are these turtles?
These are freshwater turtles, with a soft shell. The Cantor turtles are among the largest of its kind. Some of the turtles weigh upto 100 kg and are almost 1 metre long.  They are mostly found in India and other countries in Asia, including Vietnam and Cambodia.

Without a hard shell to protect it, the turtle probably feels unsafe compared to all its hard-shelled peers. It spends most of its life almost motionless in water and under the sand, surfacing just twice a day to breathe!
What are the other species that are being conserved currently in India? Share the answers with us in the comments.