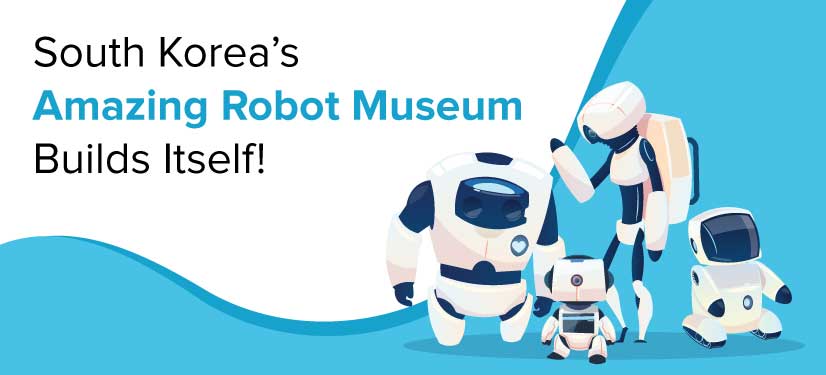 South Korea's latest endeavour in the field of robotics and artificial intelligence is a mind-bender. A recent news report detailed the country's plans to build a museum dedicated just for robots. But here's the fascinating bit – the museum is going to be built and even designed by robots themselves!
Simply named The Robot Science Museum (RSM), this marvel of the 21st century will undergo construction soon in the Chang-dong area of Seoul, the capital of South Korea. Most of the building work will be carried out by robots and drones.
The idea for this self-sufficient robotic museum comes from a Turkish architectural firm called Melike Altinisik Architects, who won a competition to design the museum. Their idea involved the construction of an egg-shape building made up of several individual panels. Each panel will be inserted into place by robotic arms.
While the idea of a museum for robots is fascinating enough, what makes this project even more intriguing is the fact that the robots are also involved in designing the entire thing. The architects claim that everything from "design, manufacturing to construction and services" will be handled by robots.
The components of the museum will be designed digitally, and robots will "mould, assemble, weld and polish" the plates for the outside, according to news reports. The base of the structure and surroundings will be produced by a giant 3D printer working with concrete. Meanwhile, drones in the sky will be used to control construction vehicles. The drones will also map and monitor the area to make sure everything is going according to plan.

According to the architects, the use of robots and drones will save time and money and also reduce the room for human errors. The construction is scheduled to begin sometime in 2020 and the project is set to open its doors to humans in 2022, although there is no word yet on whether the coronavirus pandemic will change these timelines.
"The new Robot Science Museum which plays a catalytic role in advancing and promoting science, technology, and innovation throughout society is not only going to exhibit robots but actually from design, manufacturing to construction and services, robots will be in charge," says architect Melike Altinisik. "In other words, RSM will start its 'first exhibition' with 'its own construction' by robots on site."
So the Robot Science Museum will not only be a novel breakthrough in science and technology but also in the field of art and architecture. Imagine going to a museum whose first exhibition is created not by a human, but by the museum itself! If successfully completed, the museum could serve as a blueprint for robot-assisted construction of buildings around the world.
Did we manage to pique your curiosity? For more such mind-benders, check out some of our other posts from The Learning Tree Blog:
Xenobots: The World's First Living Robots!
Step into the Future with a Career in Robotics: Careerscope