Iceland has witnessed unusually high seismic activity over the past three months causing severe consequences. As per the Icelandic Meteorological Office belief, they haven't seen anything like this since the 12th century!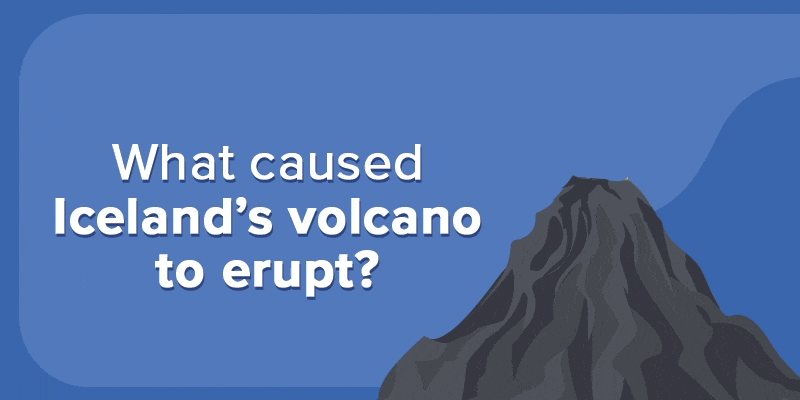 Citizens of Iceland have been having sleepless nights since February 24, and it is not due to the ongoing Coronavirus pandemic. The country has been hit by intermittent earthquakes that have rattled the lives of the Reykjavík Peninsula's residents. While earthquakes are common in this region because of its topography, the recent numbers of earthquakes have surpassed the total number of quakes in 2020. According to the Icelandic Meteorological Office, no less than about 40,000 strong earthquakes have occurred in the peninsula in mere 20 days!
"So far, the strongest one was recorded at 5.7 magnitude." 

– Pall Einarsson, Professor of Geophysics at the University of Iceland.
What causes these earthquakes?
Iceland sits on a tectonic plate boundary that slowly drifts apart at a pace of around two centimetres each year. This pushes Eurasia and North America away from each other along the line of Mid-Atlantic Ridge, literally tearing Iceland apart!
Because of this, occasional tremors are an inevitable part of the people living in an active seismic zone. However, this time, there appears to be a strong rumble under the ground. No one knows when the next big shake will happen or how much  damage it will cause, prompting citizens of the Nordic island to be on high-alert.
The misery doesn't end there…
The Grindavik region in Iceland that experienced over 40,000 earthquakes lies in the southern part of the Reykjanes Peninsula. That region too is a volcanic hotspot. Scientists had estimated that these seismic vibrations might lead to a volatile eruption as a river of molten magma or lava is trying to push its way to the surface. These molten rocks are about a kilometer below the Earth's crust. 
---
Read More: Taal Volcano: The What, Why and its Effects
---
That fatal March night!
As forecasted by the scientists at Icelandic Meteorological Office, on the night of March 19, a long-dormant volcano erupted near the Fagradalsfjall mountain, shooting lava high into the night sky.
Four hours after the first eruption at 8:45 PM, GMT (2:15 AM, IST) about one square kilometre, which is roughly about 200 football fields, was covered in lava and ash! The spread was so fast that the glow from the lava could be seen from the outskirts of Iceland's capital, Reykjavík, which is about 32 kilometres away. "I can see the glowing red sky from my window." A resident of the town of Grindavik was quoted saying. 
While the eruption caused no immediate damage to the residents or any critical infrastructure, people were reminded of a similar Eyjafjallajökull volcanic eruption that occurred in 2010. It disrupted many lives, forcing hundreds of Icelanders to leave their homes and halting approximately 900,000 flights.
While the number of quakes has slowed down in recent days, citizens are still in fear, knowing nothing about the next earthquake. 
Do you think earthquakes are recently occurring in Iceland alone?
Sadly, no. India too has been recently shaking, mostly in parts of North and Noth-Eastern regions. On the morning of April 28, several regions around Assam, Dhekiajuli, Sonitpur, and parts of Bihar, West Bengal, and Bangladesh were hit by multiple earthquakes, the largest being recorded at 6.2 magnitude. This resulted in damage to several properties, houses, and natural sites. Fortunately, no casualties were reported so far.

Do you know how to stay safe during an earthquake? Tell us in the comments below.
Also read this article for more info on earthquakes : How do earthquakes happen?
Love reading about volcanos? here is another article on the Taal volcano's effects