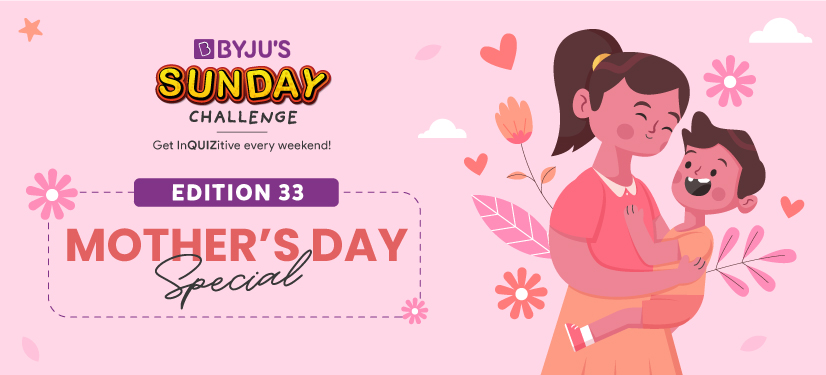 Welcome to BYJU'S Sunday Challenge. This is a very special Sunday. It's the second Sunday of May which marks the occasion of Mother's Day. To celebrate, we're doing a special edition of the Sunday Challenge where the questions (or answers) in this challenge are in some way or the other, related to mothers!
Remember:
You can take a shot at the questions and field your guesses in the comments section below. Answers will be revealed on subsequent Sundays in the comment section. The fastest entries to get all questions right win a pair of Bluetooth headphones. 
Ready? Here are your questions:
Question 1
Defined as something that occupies space and has mass, it is a lesser-known fact that this six-letter word is derived from the Latin word for mother. What's the word?
Question 2
In the animal kingdom, if the young one of this species is called a 'joey', what do you call the mother?
Question 3
Pictured below is the tallest statue in Europe. It is titled The Motherland Calls and represents the personification of a certain country. Which country?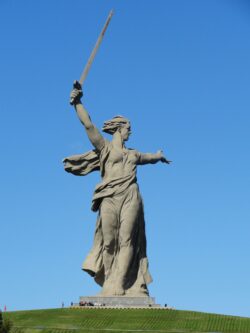 Question 4
Elected to the highest seat of office in her country for three terms, she was often called the most powerful woman in the world. Winner of Time Magazine's Person of the Year Award, she is nicknamed "Mutti" which means 'mother' in German. Who is she? 
Question 5
According to Greek myth, when this hero was an infant, it was foretold that he would perish at a young age. To prevent his death, his loving mother Thetis took him to the River Styx, which was supposed to offer powers of invulnerability, and dipped his body into the water. But, because of the way she held him, the water did not touch a certain part of his body. This little child grew up to be a great warrior who survived many battles but was ultimately brought down by a single weakness. What two-word phrase does this Greek hero lend his name to – used to refer to a weak spot in an otherwise extremely powerful opponent?
Take your guesses in the comments section below. Winners of this edition, along with the answers will be revealed next Sunday, so keep your eyes peeled!
To view other editions of the Sunday Challenge, click here.
Answers to Sunday Challenge 32:
1.  Laika, the first dog to go to space
2. Shiba Inu
3. Labrador Retriever 
4. Goddard. On the left is Jimmy Neutron's sidekick Goddard who is named after the scientist and innovator on the right, Robert Goddard. 
5. St. Bernard
Update: Winners of Sunday Challenge 33
Priti Prativa
Deva Nanda A
Sanskriti Gandhi
Priyansu Kumar Singh
Ananya