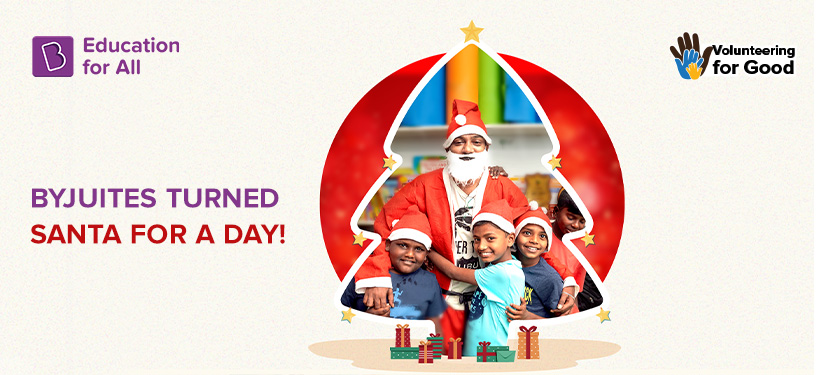 The month of December, despite its cold temperament across the world, is a time for warm feelings. With the spirit of the festive season set right at the beginning, kindness takes shape across all walks of life – donating a sweater to a homeless person in the chilly weather or providing a hot meal to a lonely stray animal.
Amid the aura of the season for benevolence, BYJUites took on the role of Santa Claus. They visited the children at Bangalore-based non-profits – Mother Teresa Navachetana Charitable Trust and Vidya Bhavan Orphanage, and at St Thomas Matriculation Higher Secondary School, Chennai. Together, they cheerfully celebrated with the children by conducting various exciting programmes and activities to lift their spirits.
"We started off the day with some rhymes and Christmas songs. We held an arts and crafts workshop where we taught them how to make little snowmen, and they surely brought their creativity to the table," shared Ektha Sachdev, Talent Experience.
"I had the pleasure of meeting so many wonderful children, and spending time with them was a truly magical experience. To see their smiling faces and hear them thank me for being there was such a special moment for me. You haven't seen pure joy until you see children leap up as soon as Santa Claus enters the room!" said Immanuel Raj Kumar, HRBP.
Ravi Chandra Gudimetla, Associate Artist, who dressed up as Santa Claus for the kids, shared, "I distributed presents and chocolates to all the children. They loved everything they received and were so happy. They thanked us with such enthusiasm and grace! We will simply never forget those smiles. We are so happy that we got to spend this Christmas with these children!"
While we managed to spread the warmth of joy in December, we hope to spread the zeal of education into the lives of children. By 2025, we want to empower at least 10 million children across India with the power of education.
---
BYJU'S Education for All is on a mission to empower 10 million children by 2025 with education. Through the BYJU'S Give programme, you can contribute to this movement and help children with quality digital learning. You can donate an old device, which we will refurbish, and then use the money raised to buy a new device. In case you do not have a device, you can also donate to an NGO partner, who will use the funds to buy devices for children.
In both cases, we will load our BYJU'S Think & Learn premium content onto these devices and distribute them to children in need.
Also read: BYJUites Walk to Spread Awareness about Inclusion for Persons with Disabilities