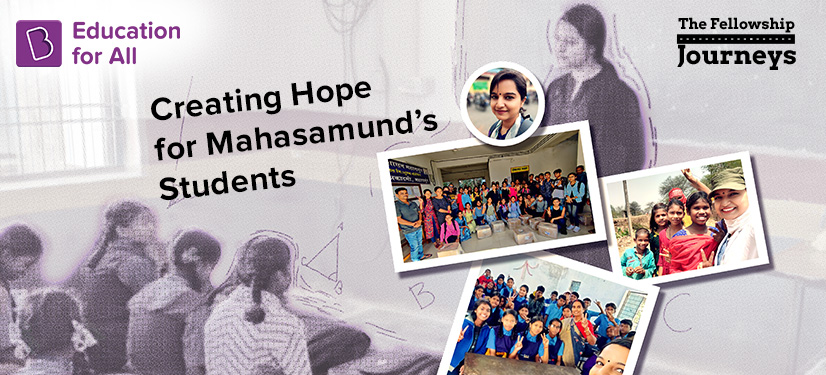 The district of Mahasamund in Chhattisgarh is renowned for its rich culture. Once the capital of 'South Kosal' ruled by 'Somavansiya Emperors', the region was also a centre for learning. With their natural beauty, many temples here have always been a part of the district's aesthetics.
According to Census 2011, out of the total population, 23.4% of people live in urban areas, while 76.6% live in rural areas. The average literacy rate in urban areas is 82.2%, while that in rural areas is 70.7%. Despite its notable sex ratio of 1.002 and 1.005 in urban and rural areas, respectively, the male literacy rate is 72.43%, and the female literacy rate is 54.09%.
The NITI Aayog has identified Mahasamund to be one of the aspirational districts. Through the BYJU'S Fellowship Program, our fellows have been posted in many such aspirational districts to help the children grow with learning.
"Being a UPSC aspirant, I always wanted to be a part of the administration to work for the betterment of society. Education is one such powerful tool that enables and empowers people to stand and speak up for their rights," shares Astha Jhariya, one of the fellows posted in Mahasamund.
Astha Jhariya has been working in the district to help the BYJU'S Career Plus students with the BYJU'S Fellowship Program.
"Through this programme, where we work in aspirational districts, we got an opportunity to involve teachers, students, and the community towards the progress of quality education in the country's most challenging areas. I attend several district-level government official meetings as a representative of NITI Aayog and BYJU'S Social Initiatives," she says.
A Day in the Life
A typical day in Astha's journey starts with planning a day in advance to schedule meetings with various government officials like CEO Zila Panchayat, DM, DEO, DMC, ADEO, and the school principal. As per the appointments and the demand of the work, the day proceeds with visiting government officials, schools, government hostels and the community to conduct sessions on several topics.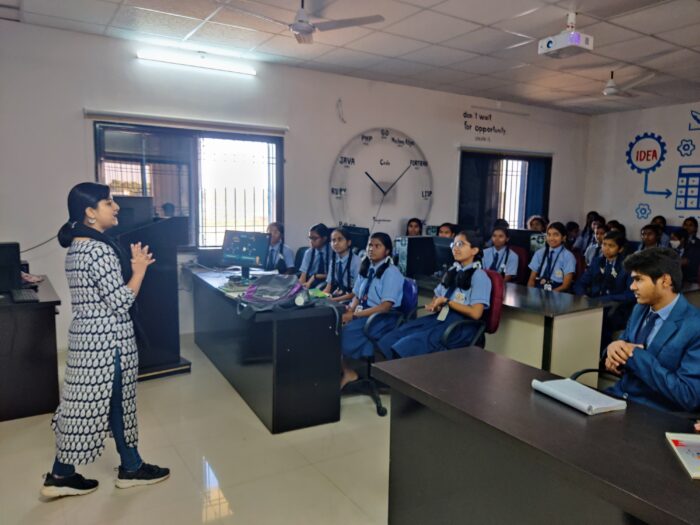 "Some of these topics include setting goals at a young age (I have named it ' Dare to Dream') and introducing them to BYJU'S Education for All program. I visit the learning centre in the second half of the day as the career plus students have classes scheduled. The day ends with several calls from students for their doubts and queries regarding their studies and other issues," shares Astha.
She adds, "Being a mentor to my students, I try my best to be available for them 24*7. Meeting them one-to-one to solve their queries instils confidence in them, reassuring them that they are not alone in the NEET and JEE preparation journey. I have also conducted several sessions online and offline for my students on time management, organising a balance in NEET/JEE preparation, as well as interaction with some toppers, an engineer and a doctor to guide them for specific subjects."
Coming from very remote areas, students have issues with communication, clarity of thought and critical thinking. So, Astha also tries to train them with soft skills so that, irrespective of their language, they should be able to confidently communicate their thoughts.
Overcoming Challenges
These students' major challenges are poor internet connectivity and distance from the learning centre. About 32 students come from 24 locations, and each has to travel for at least 10 to 15 kilometres to the learning centre.
"Thus, to motivate them to manage their hectic school work along with such extremely competitive exam studies, I try to listen to them, and we, together, try to find the best possible solutions for their issues – be it related to the English language or their problem of science practical notebook submission. To sustain this for two years is a major task," shares Astha.
While working to bridge the digital divide between rural and urban regions and imparting quality education for all, she adds, "It is more important to have a problem-solving mindset than complaining about the things that are not working out. This is the lesson I pass to my students as well."
"I would like to reach out to more and more students, teachers and community outreach; the major challenge on the ground is to travel to the remotest places," Astha signs off.
The BYJU'S Fellowship Program aims to reach the most remote locations and ensure that children in these areas have a fair opportunity for quality education. We hope every student can achieve their dreams of becoming a doctor or engineer and making a difference in society.
---
BYJU'S Education for All is on a mission to empower 10 million children by 2025 with education. Through the BYJU'S Give programme, you can contribute to this movement and help children with quality digital learning. You can donate an old device, which we will refurbish, and then use the money raised to buy a new device. In case you do not have a device, you can also donate to an NGO partner, who will use the funds to buy devices for children.
In both cases, we will load our BYJU'S Think & Learn premium content onto these devices and distribute them to children in need.
Also read: How Hita Kosle is Learning and Helping her Friends Chase Their Dreams with BYJU'S