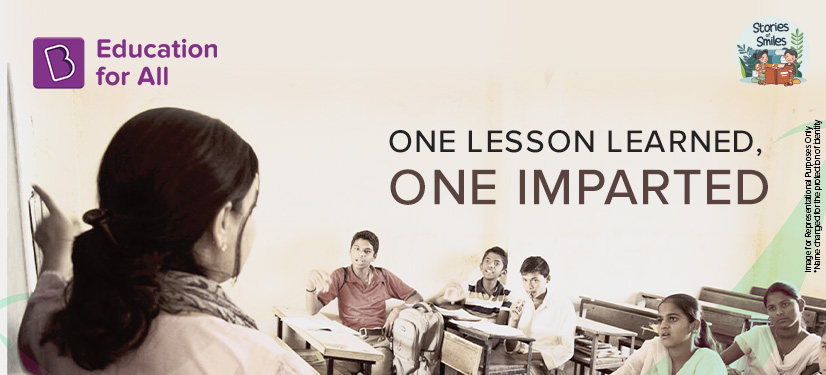 Despite its impressive sex ratio of 1.017, the Mahasamund district of Chhattisgarh has a female literacy rate of 60.25% compared to the male literacy rate of 82%. Located about 10 kilometres north of this district is the Tumgaon village, which sees a total population of 1183 (Census 2011). In this village, the female literacy rate drops significantly to 25.2%.
In this village lives a young girl named Hita* Kosle, who hails from a lower middle-class family with big dreams and exceptional dedication towards studies. Hita's parents, who work as farmers for a living, often cannot help Hita in her learning, so she receives support from BYJU'S Career Plus programme. Through this programme, she is under the guidance of Astha Jhariya, a Fellow from BYJU'S Social Initiatives, who often motivates her students to share their knowledge.
"In most of my classes, I suggest all my Career Plus students teach their classmates the topics they are learning from online classes," shares Astha, adding, "During one of my visits to the schools is where I came across Hita's inspiring work."
Hita, a NEET aspirant, has big dreams of pursuing a medical career and takes a great in learning Biology. When Astha went to Hita's school, she witnessed how a small suggestion created positive change in the remotest parts of the country.
While most students head towards fun and frolic during their free hours and break times, Hita utilises these periods to teach all the concepts she learns, especially Biology,  with her classmates.
"Sometimes, I am also allowed to bring a tablet to the class and show the animated video lectures, which amazes the students, but at the same time, helps them grasp and retain concepts for longer," shares Hita.
Not only is this a generous act, but it is also a source of motivation for all other students to work harder so that they can also avail themselves of the opportunity that Hita was given.
The village of Tumgaon is proud of Hita for earning the scholarship from BYJU'S. The school also felicitated Hita during the assembly for receiving a tablet from the district collector.
We hope that the support from the BYJU'S Career Plus programme bolsters the futures of Hita and other JEE & NEET aspirants. Through our Social Initiatives, we hope to reach 10 million children by 2025 with the power of education.
*Name changed for the protection of identity
---
BYJU'S Education for All is on a mission to empower 10 million children by 2025 with education. Through the BYJU'S Give programme, you can contribute to this movement and help children with quality digital learning. You can donate an old device, which we will refurbish, and then use the money raised to buy a new device. In case you do not have a device, you can also donate to an NGO partner, who will use the funds to buy devices for children.
In both cases, we will load our BYJU'S Think & Learn premium content onto these devices and distribute them to children in need.
Also read: Pratik Wants to Ensure that Justice is Accessible to All