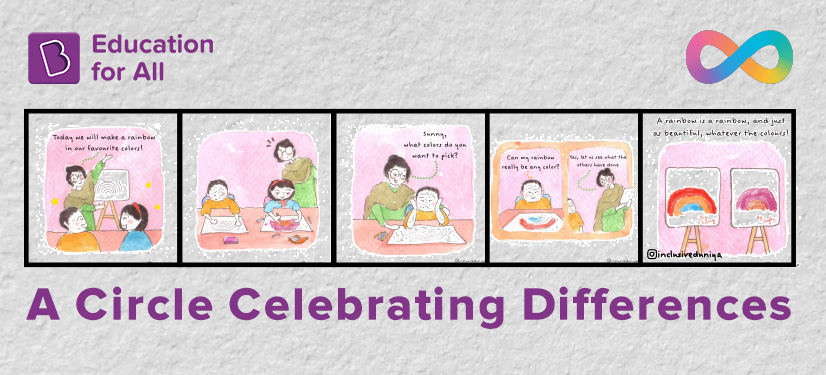 In November, BYJU'S collaborated with an NGO called The Sarvodya Collective, which promotes awareness regarding differently-abled learners. Together, we wanted to make students aware of an important social topic, celebrate strength in diversity, and encourage inclusivity.
As a part of this combined mission, we conducted three online reading circles for our students to encourage them to celebrate their differences through the medium of comic book characters, interactive storytelling, and exchange of ideas. 
These sessions aimed to facilitate social and emotional learning for the child's overall growth and equip them with leadership skills, better preparing them for our diverse world.
Through hour-long sessions, we engaged with a small group of students, where they all came together to share their thoughts on various topics and interact with each other through games and activities.
From playing games like 'Never Have I Ever' to looking into the life of motivational speaker Nick Vujicic, the children were constantly engaged with different content, for which they shared their honest feedback.
"While we have arms and legs, we were surprised to see one Nick being happy despite having neither," shared one student while another shared, "Despite all his difficulties, he made it seem like nothing is impossible."
The children engaged in these conversations, which encouraged them to discuss their differences and how one can and must be more inclusive.
Pooja Sharma, Founder, The Sarvodya Collective, shared, "The Inclusive Duniya Reading Circles are a light touch simple way to talk to children about the lived experience of neurodiversity and how they could be better friends and allies. Through a lovely structured conversation, children can learn through comics, make connections to their own life, and discover how they could make their immediate environment more inclusive!"
She added, "We are looking forward to being able to reach smart, conscious young people in partnership with BYJU'S and seed the dream of inclusion in communities far beyond our immediate reach!"
"When we talk about inclusion and diversity with young children, who are free of biases, they grow up to become more accepting of themselves and others. It helps them build a strong, empathetic base, in the absence of which, children often fall back on prevalent misconceptions that lead to conscious or subconscious discrimination. If we truly want the future to be inclusive, educating our younger generations is the most powerful tool," shared Shreya Jain, who leads BYJU'S UNO, an inclusive learning platform.
Building Conversations around Inclusion
As a run-up to International Day of Persons with Disabilities commemorated every year on December 3, BYJU'S Social Initiatives conducted multiple workshops & discussions, from October through December, on how 'The Future of Learning is Inclusive'.
Every month, we discussed neurodiversity with our employees through 'Common Ground', where we invited guests to share their experiences with neurodiversity. The sessions were interactive and evoked positive responses towards a world of inclusion.
In addition, we also conducted certification workshops and training activities where stakeholders at BYJU'S got a chance to learn neurodiversity better, including one in association with The Sarvodya Collective.
We also conducted three certification workshops on the "Basics of Neurodiversity & Inclusive Learning" for different teams across BYJU'S through three different sessions with The Sarvodya Collective. These insightful, well-structured workshops saw great participation from BYJUites. In these sessions, the participants had to solves case studies, and a final quiz, post which they were given a certificate. They also got insight into the basic of universal designs and how each team could apply these to their field of work.
We hope to have many more discussions around neurodiversity and continue to build a more inclusive future for education.
---
BYJU'S Education for All is on a mission to empower 10 million children by 2025 with education. Through the BYJU'S Give programme, you can contribute to this movement and help children with quality digital learning. You can donate an old device, which we will refurbish, and then use the money raised to buy a new device. In case you do not have a device, you can also donate to an NGO partner, who will use the funds to buy devices for children.
In both cases, we will load our BYJU'S Think & Learn premium content onto these devices and distribute them to children in need.
Also read: The Future of Learning is Inclusive