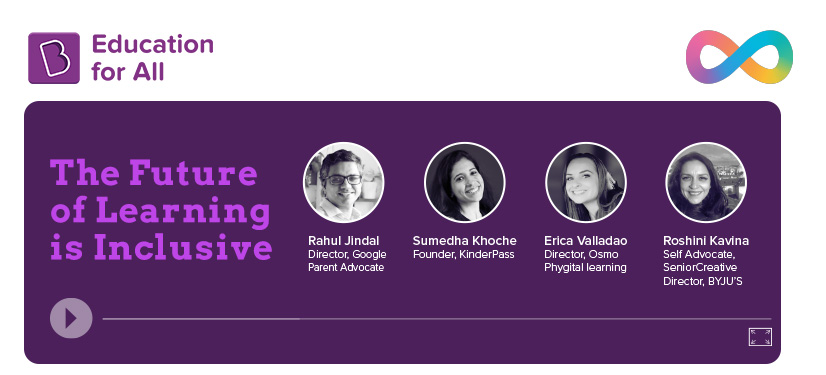 Ahead of International Day of Persons with Disabilities 2022, BYJU'S Social Initiatives organised a discussion around neurodiversity with an esteemed panel. 
The panellists included Rahul Jindal, Director, Google Parent Advocate; Sumedha Khoche, Founder, KinderPass; Erica Valladao, Director, Osmo Phygital learning; Roshini Kavina, Self Advocate, Senior Creative Director, BYJU'S, hosted by Shreya Jain, Head, BYJU'S UNO.
These panellists discussed in an interactive session, inclusive learning from the perspective of mainstream education systems & edtech, early intervention, parenting, the role of organisations in fostering neurodiversity.
Personal Experiences
Kicking off the discussion, the panellists set the context and share their own experiences with neurodiversity.
"School was by far the worst years of my life," shared Roshni. "Back in the 80s, there was little to no support for dyslexia. Even though I showed strong signs, my support system was somewhat weak. I still remember being unable to read and write properly, but it was often shoved aside as 'being distracted'."
Rahul said that he learnt more about neurodiversity after his son was diagnosed. Even in his own life, he said that he had never gotten the right diagnosis. "After I got inputs from many people in the company that I worked in, I became an advocate for my child, myself, and others in the spectrum."
Talking about early intervention, Sumedha shared, "There is no single marker to understand a child's neurodiversity. So, very often, you second-guess yourself. The idea of early intervention itself is to take advantage of neuroplasticity when the brain is more malleable. You will get better learning and literacy outcomes. The earlier you start, the better it is, but, it is never too late."
With a vision to completely change the way we learn and turn the world into an interactive learning environment that combines the physical and digital worlds, Erica talks about why she decided to break away from the conventional ways of learning.
"Working as a teacher, you have a lot of students who are not diagnosed. It is important for people to take a step back and understand why students keep repeating actions because these are some things that most humans do at some point. So, it was a big step for me to take the approach of incorporating something that is not necessarily typical for everybody to do," she shared.
Education System in India
"While there are many formats of learning, inclusive schools are probably the way forward. All of it would boil down to much training and sensitivity the educators and the administrative staff have on a daily basis," shared Sumedha.
Talking about the role of organisations in fostering neurodiversity, Rahul said, "The role of the government is to provide a framework and legislation. We have the policies like the NEP 2020 and Samagra Shiksha Abhiyaan, which cater to neurodivergent children. However, leaders in smaller groups, like parents, and other community members, have a good role to play in the lives of these children."
He further added, "The role of leaders is three things – talk about it, ask about it, and fund the cause, because it is a good way to help these learners and also grow the business. Businesses need to recognise this opportunity and create more inclusive products for this space"
"We all are different learners and things resonate with us in different ways. So, it's important for us to break down all the concepts and allow the students to build upon them. The children should be able to reflect on their own lives in these learning experiences, which can help them understand things better," shared Erica.
"Everybody has their strengths and weaknesses. We're all built differently, we have different quotients of intellect. If the whole world was the same, it would be boring!" shared Roshni, adding, "I think neurodiversity brings so much flavour into our society. As more people understand that each of us is different, all we need to do is become more empathetic towards one another."
Heading Towards Inclusive Learning
"If we de-stigmatise the whole process, and drive a little more sensitivity, there could be a difference. As a society, we must be more accepting, and provide support to one another," Sumedha shared her thoughts on an inclusive future of education.
Erica said, "I would love to see our future in education be a collaboration – a partnership between the students, the families and the different organisations that they are working with. Not everybody fits into the same box. Supporting different learners and making everyone feel supported, can help everyone feel included."
"Inclusion and belonging have finally landed in the social construct. As allies, we must believe that change is possible," Rahul shared his concluding thoughts.
Roshni shared her thoughts, "Kids, today, have an open mindset. If we have these positive conversations, this is bound to have an impact on them. In the future, there won't be people who'd be ashamed of their neurodiversity. In fact, they could take pride in being different and being wired differently."
"My brother was asked to leave a number of schools because he was autistic. In fact, we were even told that we were in the wrong country. This system around didn't even allow me to dream big for him. I didn't think he could have big ambitions, until I met neurodiverse learners in other parts of the world. Since then, I've never stopped myself from having big aspirations for our community, and I hope that many more conversations like these will inspire others as well," Shreya signs off.
Watch the video to dive deep into the conversation, and understand how the future of learning can be inclusive.
---
BYJU'S Education for All is on a mission to empower 10 million children by 2025 with education. Through the BYJU'S Give programme, you can contribute to this movement and help children with quality digital learning. You can donate an old device, which we will refurbish, and then use the money raised to buy a new device. In case you do not have a device, you can also donate to an NGO partner, who will use the funds to buy devices for children.
In both cases, we will load our BYJU'S Think & Learn premium content onto these devices and distribute them to children in need.
Also read: Defying Perceptions and Barriers