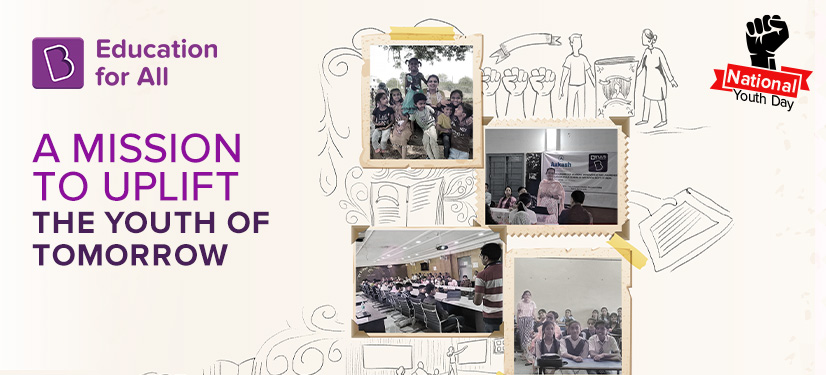 "Youth means to place your firm confidence in yourself & exercise your hopeful determination and resolution and willing good intentions in this beautiful task of self-culture. This will truly bring supreme satisfaction and fulfillment not only to you, but also to all concerned." – Swami Vivekananda
National Youth Day is commemorated every year on January 12 to celebrate the birth of the great philosopher Swami Vivekananda. His life and philosophy stands as a great source of motivation for youngsters to this day.
On this occasion, we want to talk about how our youth at the BYJU'S Fellowship Program have come together for a bigger purpose to impact and uplift the youth of the Career Plus programme.
A Mission to Uplift and Empower
The Fellows of the programme have been posted in the aspirational districts defined by the NITI Aayog, situated across India. From Kashmir to Kanyakumari, these youth have been spreading their learning through BYJU'S Career Plus programme, encouraging the JEE and NEET aspirants to chase their dreams.
"In many parts of India, a child of class 5 still cannot grasp the textbook information of class 3, and a student of class 8 cannot even work out simple arithmetic. The fault is not only schools and teachers but also the parents and the environment. So, as a youth, it is on us to make a difference to these children," shares Mohammed Nooruddin, currently posted at Katihar, Bihar.
Another Fellow, Piyush Mittal Agarwal, who works out of Pelling in Sikkim, shares, "The youth of today can truly help children with career counselling. Growing up, I had no one to guide me towards a steady career. Counselling sessions can help children make a better choice."
He further shares a pleasant experience, "We went to an place in Tumkur during our village immersion project. There, we witnessed certain NGOs working for the same cause as us. We got to observe this great initiative and what a difference it made to the children."
Mrinal Keshri, a Fellow motivating children in the Aurangabad district in Bihar, says, "Education is the basic human right. Government and civil society organisations are striving hard to achieve educational equity. The youth can play a significant role in the same. They can come forward as professionals, academicians, social activists and volunteers to make a difference."
For the Youth of Tomorrow
For almost a year, these fellows have been working in their respective districts to make a difference in the lives of children and help them become the best version of themselves. Through hard work, persistence, and empathy, these youth aspire to help these students find the right career path for themselves.
They also firmly believe that the youth should use their energy and potential to make a difference by taking a sizeable step towards empowering those who need it.
"The youth of today can help children by being a voice and advocating education for all children. They can also take a step in involving local NGOs working in the education domain. Volunteering in government schools as a school teacher or teacher assistant is also an impactful way to help children with education," shares Lawmakim Hrangate, who is currently posted at Namsai, Arunachal Pradesh.
Vishakha Sharma, a Fellow posted in Jaisalmer, Rajasthan, not only takes the JEE and NEET counselling sessions but also teaches English to her students. She says, "Today, the youth are known to be multitaskers who can do many things simultaneously. When a person is young, they have the zeal to change the world at their level. Today's youth can guide and counsel the children about the importance of education."
She leaves a message to the budding and promising youth of today's society: "Keep grinding and be self-confident because one day you will surely find what you want. Take small steps and set higher goals. Try to learn from failures as they are the learning pillars. Be open to change and learn from it every day. Youth are the building blocks of society, and if they want, they can change the world."
The youth of the Fellowship Program continues to stand as a source of inspiration for students and others worldwide. Through our social initiatives, we intend to reach 10 million children by 2025.
---
BYJU'S Education for All is on a mission to empower 10 million children by 2025 with education. Through the BYJU'S Give programme, you can contribute to this movement and help children with quality digital learning. You can donate an old device, which we will refurbish, and then use the money raised to buy a new device. In case you do not have a device, you can also donate to an NGO partner, who will use the funds to buy devices for children.
In both cases, we will load our BYJU'S Think & Learn premium content onto these devices and distribute them to children in need.
Also Read: BYJUites Empowered Promising Young LeadHERs of Tomorrow