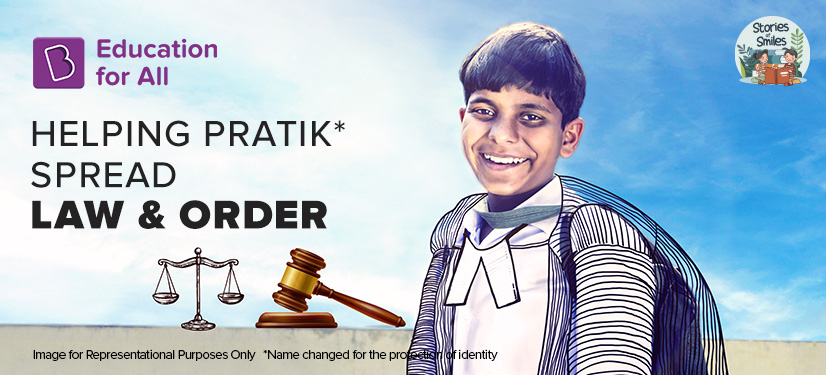 18-year-old Pratik hails from Khukradih, Jharkhand and has huge dreams for his future. Growing up, he learnt about the various crimes around him and wanted to make a difference to the people who live in similar circumstances.
"I want to become a lawyer and help bring justice to people around me. Many people around me cannot afford a lawyer for their concerns, and I want to be there for them," says a very passionate Pratik.
While he dreams big, the class 12 student hails from a family of minimal means that lives hand-to-mouth. His father, being the sole breadwinner of the family, makes his daily wages as a labourer. His mother takes care of Pratik and his brother, Prakash*.
While things looked tough for the family economically, getting a proper education was challenging for the brothers. In fact, Pratik has been a very promising student at the Upgraded High School (UHS), Khukradih. But to pursue his dream, Pratik realised that it is not enough to just learn at school, and he wanted to go for special coaching.
However, his father did not have the money to afford additional coaching classes to supplement their learning.
That's when Pratik came across one of our NGO partners, ALIG Society, which gave him a smartphone loaded with the BYJU'S learning content. Since then, Pratik has constantly been practising with the BYJU'S to improve his speed for his exams and understand the concepts better.
"Science has been my favourite subject, and I can now learn it better with the app. I am also learning and improving my English as well. I truly wish that I can work hard to become independent one day," says the boy, filled with hope for his future.
BYJU'S Education for all is on a mission to impact children across India with access to quality education. We hope that with our NGO partners, we can help them pursue their dreams and make a better future for themselves.
---
BYJU'S Education for All is on a mission to empower 10 million children by 2025 with education. Through the BYJU'S Give programme, you can contribute to this movement and help children with quality digital learning. You can donate an old device, which we will refurbish, and then use the money raised to buy a new device. In case you do not have a device, you can also donate to an NGO partner, who will use the funds to buy devices for children.
In both cases, we will load our BYJU'S Think & Learn premium content onto these devices and distribute them to children in need.
Also read: Making Rahul an Engineer of Tomorrow