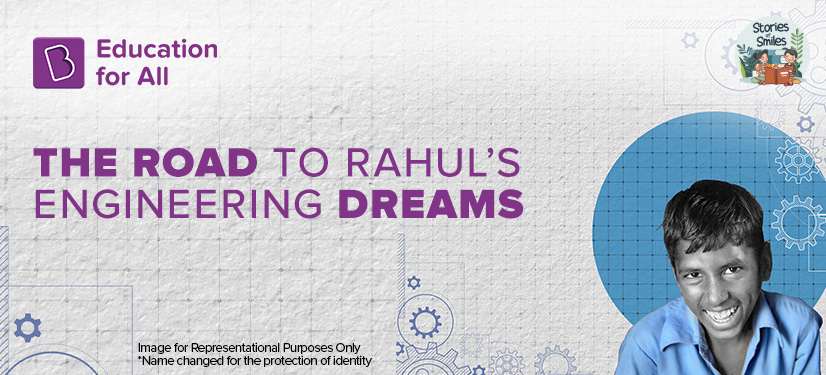 "I want to clear the JEE exams and become a successful engineer one day," says 15-year-old Rahul*, a young, promising student in Madhya Pradesh.
On Engineer's Day, we share the story of Rahul Kumar, hailing from the Sangvi village, who hopes to be an engineer one day.
Sangvi is a small village situated in the state's Khargone district, with a total population of 2,375 (Census 2011). Of this population, only 26.44% are literate.
Rahul lives in a family of six – his father, who works as a farmer, his mother, a housewife, and his three siblings. All of the children go to the government school in the village.
Rahul has big dreams of becoming an engineer one day. With his strong affinity for studying and outstanding leadership, everyone around him hopes his dreams come true.
However, the education sector is not well developed in Sangvi. The government school that he goes to has a lack of infrastructure as well. All this has been insufficient for Rahul to prepare well.
"I wanted to purchase online courses, but they were too expensive. So I started attending classes at the local tuition centres," he says.
One day, he came across a member of the NGO Manthan Sahara, distributing BYJU'S learning content to children. He, too, enrolled for the classes and has been learning from the app since.
Currently, Rahul is entirely using the app and its features to prepare for the IIT JEE exams.
"The JEE needs a lot of preparation, and I regularly use the BYJU'S App. The practice quizzes and tests help me improve my speed. I am hoping to crack the exam next year," Rahul shares.
Like Manthan Sahara, we have partnered with 110+ NGOs to further the dreams and aspirations of children across India. Together, we hope to help the millions of aspiring and promising engineers in India.
---
BYJU'S Education for All is on a mission to empower 10 million children by 2025 with education. Through the BYJU'S Give programme, you can contribute to this movement and help children with quality digital learning. You can donate an old device, which we will refurbish, and then use the money raised to buy a new device. In case you do not have a device, you can also donate to an NGO partner, who will use the funds to buy devices for children.
In both cases, we will load our BYJU'S Think & Learn premium content onto these devices and distribute them to children in need.