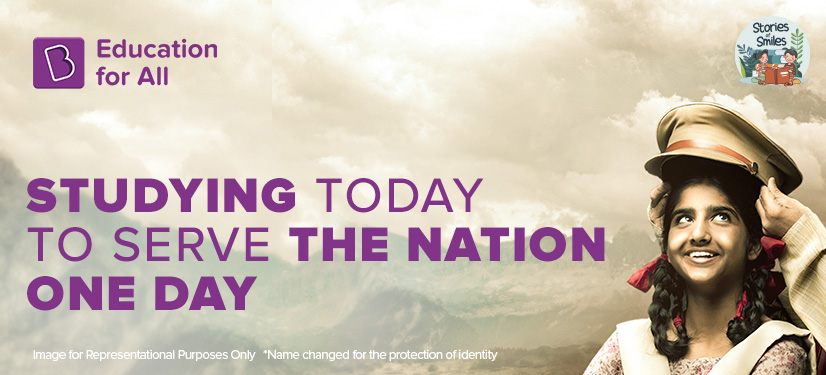 Amid the most populous city of Jharkhand, Jamshedpur, within the hustle and bustle of the thriving population, lives a small family 6. Mr and Mrs Kumar* and their six children. Here is the story of one of their children, 14-year-old Neha* Kumar.
Neha goes to the government school in Chhota Govindpur, Jamshedpur, and is one of the most promising students in the institution. She studies hard every day in hopes of achieving her big dreams.
"I want to become an IPS officer one day and make a difference in the nation," Neha says with a smile as bright as the sun!
However, the smile began to fade as the pandemic hit, and things looked uncertain. Her father who worked as a driver, was unable to work in the pandemic. Meanwhile, her mother being a housewife, wasn't in a position to contribute to her education. She wasn't able to keep up with her education, with no access to a smartphone. However, with the help of the NGO ALIG Society, she procured one.
Not only this but the phone was also loaded with free access to BYJU'S premium learning content. This helped take her studies to the next level.
"I like the tests on the app, which help me understand concepts better. I have been using the app for a while now. Since schools reopened, I have been using it at night to practice," says Neha.
Neha also shares the app with her siblings to help them study better.
Like Neha, we hope to help millions of children across India with access to education. Together with our NGO partners, we want to fulfil their dreams and aspirations with quality learning.
---
BYJU'S Education for All is on a mission to empower 10 million children by 2025 with education. Through the BYJU'S Give programme, you can contribute to this movement and help children with quality digital learning. You can donate an old device, which we will refurbish, and then use the money raised to buy a new device. In case you do not have a device, you can also donate to an NGO partner, who will use the funds to buy devices for children.
In both cases, we will load our BYJU'S Think & Learn premium content onto these devices and distribute them to children in need.
Also read: Giving Anitha a Boost to Her Learning with Digital Education