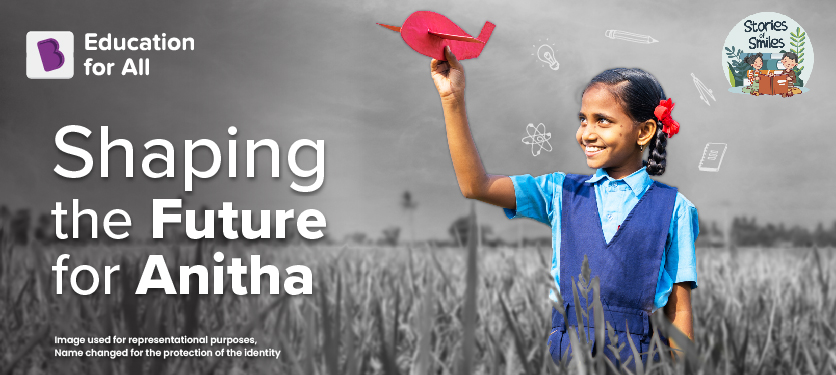 "Every day, I wait for my father to come back at 9 PM so that I can start studying using his phone," says Anitha*, a grade 5 student from the Samarpan School in Kotla, Delhi.
In 2020, millions of children in India that come from a background of minimal means were faced with challenges when the pandemic struck. While one section of students moved online for their education, another was battling the challenges of an India that came to a standstill. Internet resources, too, were limited for many children.
While some children had access to their parent's phones, the time they could spend on it studying, was very minimal. Such was the situation of Anitha, too.
Anitha lives with her parents and three siblings. While her mother is a homemaker, her father works as a peon at a private firm. He was the only person in the family who owned a smartphone.
With no interesting activities to do locked up at home, Anitha would often take her father's phone and play games or watch cartoons. The online classes were monotonous, and very often, the lack of internet would prevent her from attending the same.
With the single income of the father, they were unable to buy an additional digital device for their children's classes.
One day, the school, run by the NGO Samarpan, introduced the free BYJU'S app by BYJU'S Education for All to the children. Anitha, too, received the app which was installed on her father's phone. Since then she has been studying on the app, once her father returns home from work.
"Earlier, when I used to take my father's phone, he used to scold me for watching cartoons. Now, he himself gives me his phone to study," says Anitha.
"Learning has become very interesting nowadays with the BYJU'S App. The activities and quizzes help me understand the concepts better. I also show my younger sister some of the videos available on the app," she adds.
For Anitha and the many children who lack access to education, we at BYJU'S Education for All hope to fulfil their dreams. With NGO partners like Samarpan, we want to help children soar the skies with the power of learning.
*Name changed for the protection of identity
---
BYJU'S Education for All is on a mission to empower 10 million children by 2025 with education. Through the BYJU'S Give programme, you can contribute to this movement and help children with quality digital learning. You can donate an old device, which we will refurbish, and then use the money raised to buy a new device. In case you do not have a device, you can also donate to an NGO partner, who will use the funds to buy devices for children.
In both cases, we will load our BYJU'S Think & Learn premium content onto these devices and distribute them to children in need.
Also Read: Helping Vaishali Fly to Her Dreams of Financial Independence