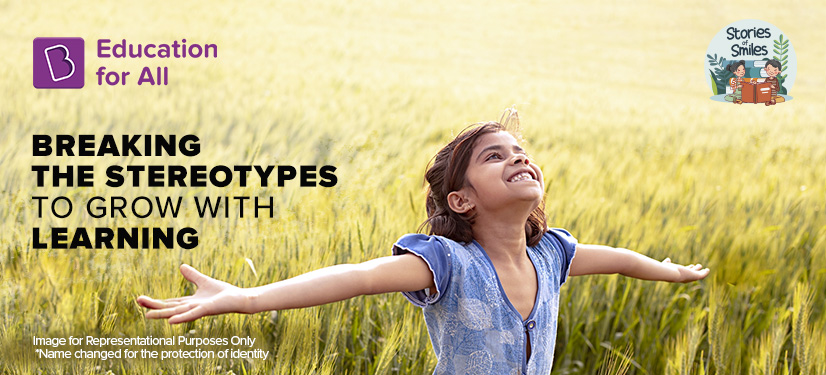 Hailing from a humble hamlet in the Khargone district of Madhya Pradesh, Vaishali* hopes to soar the skies one day. She goes to the local government school, where she works hard every day to achieve her dreams. The promising young mind lives with her two siblings and her parents, together in a joint family.
The family, being orthodox believes that girls don't have a position within the society that exists beyond the walls of a kitchen. They strongly believe that girls, instead of learning at schools, should be learning at home – everything from household chores to cooking. They want the girls in the family to get married young so that they can manage their homes and children with ease.
"But I want to become financially independent and go outside my village to study," says an ambitious Vaishali. Her father, too, hopes to lift her out of their current situation and help her reach her goals.
"I want my children to receive good national-level opportunities outside of our village, to ensure that they can grow with education," says Gangadhar*, Vaishali's father.
While Vaishali dreams big, her family's economic condition often pulls her down. Her father works as a farmer and her mother is a homemaker. Their family's income is just enough to breakeven and insufficient to support their children's education.
To her luck, the team of the NGO Manthan Sahara visited her school. It was at the same time that Vaishali and her father were also looking for alternate affordable courses, but couldn't find any. That's when the NGO members told them about the free learning course from BYJU'S Education for All. Without a second thought, she registered for the course.
"I have been using the BYJU'S App for about a month now. I really enjoy studying from this app. It has been providing easy access to good content in Hindi from which I can easily learn and understand. The funny and interactive videos in the app also make learning fun," says Vaishali.
Seeing the benefits of the app, Vaishali also enrolled her younger sister for a free BYJU'S course, and now both of them enjoy learning digitally.
Like these young girls, millions of children still lack access to education. With the help of our NGO partners, we hope to impact these children with quality digital education and make learning accessible.
---
BYJU'S Education for All is on a mission to empower 10 million children by 2025 with education. Through the BYJU'S Give programme, you can contribute to this movement and help children with quality digital learning. You can donate an old device, which we will refurbish, and then use the money raised to buy a new device. In case you do not have a device, you can also donate to an NGO partner, who will use the funds to buy devices for children.
In both cases, we will load our BYJU'S Think & Learn premium content onto these devices and distribute them to children in need.
Also Read: How Jeevith and Rida Stood up for Education Despite the Hurdles