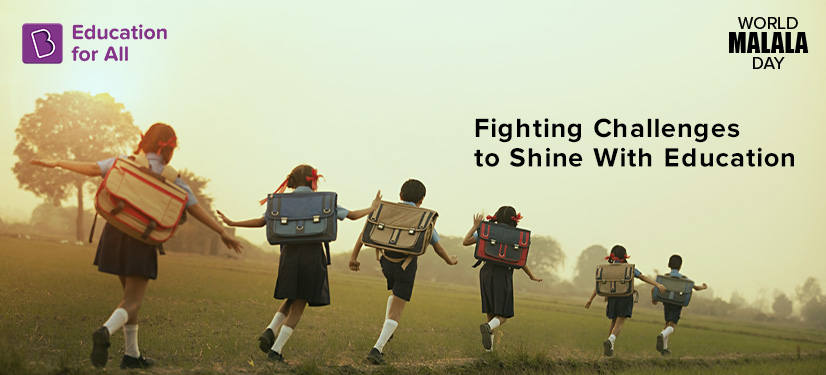 Every year on July 12, we celebrate the efforts of the braveheart Malala Yousafzai. Over 13 years ago, when the extremist group Taliban took control of Pakistan's Khyber Pakhtunkhwa province, the future of education for girls looked bleak.
The young Malala would write a blog to BBC under a pseudonym about the atrocities. Even after her identity was revealed, she and her father, a social activist, continued to protest for their rights. However, one fateful day, she was shot in the head and neck by a Taliban gunman. 10 days later, she woke up in a hospital in Birmingham, England, where she underwent treatment for months.
Nine months later, on July 12, 2013, on her 16th birthday, she delivered a powerful speech at the United Nations. Since then, the UN has celebrated World Malala Day, calling on world leaders to ensure free and compulsory education for children across the world.
On this occasion, we share the story of two children, who despite their familial challenges and difficulties, have aced the Class 10 SSLC examinations. Coming from a background of minimal means, both the children had no additional support for their education. However, they could prepare better with the support of the NGO Right to Live, which gave them a free BYJU'S course.
Read on about how these children, Jeevith and Rida from Bengaluru prepared for the class 10 examinations with the help of their friends, family and the BYJU'S App.
Jeevith Gowda
Jeevith* Gowda resides in the outskirts of Bengaluru, near Electronic City and goes to the nearest government school. In recent times, he made his family proud by scoring 93% in the SSLC examination.
While his marks have brought a lot of happiness and hope for his family, things have not been easy for the 16-year-old. He comes from a family of minimal means, his mother being the sole breadwinner. She works at a nearby construction site as a contract labourer.
While Jeevith was a top student at his school, making the best of all the classes, he would also make sure to practice well at home.
"I used to pay attention to all my classes every day in school. Once I got back home, I would refer to the tab given to me by the NGO Right to Live. Most often, I would use the BYJU'S App to clear all my doubts," Jeevith tells Team BYJU'S about his preparations.
Every day, Jeevith would regularly practice with the BYJU'S content and the interactive quizzes. "This really helped me prepare each concept thoroughly," Jeevith says.
Jeevith is currently pursuing Commerce and hopes to clear the UPSC examinations in the future. He hopes to become an IAS officer, and make a difference by serving the society.
Rida Ahmed
Rida* Ahmed, a student residing in Bengaluru, managed to do really well in the SSLC examinations. She scored a whopping 88% in the examinations, despite all the challenges at home. While her mother works at a canteen at one of the corporates in Bangalore, her father works as a peon at a call centre.
We asked Rida about her preparations and study method. The bubbly and energetic Rida says that she followed a strict schedule.
"I used to make a timetable for all the subjects and follow it diligently during the study holidays. During the weekends, I would give more time for the preparations," says Rida.
Rida worked really hard to do well in the exams. In fact, she put in more effort into science as she struggled with that subject compared to the others.
"I used the BYJU'S app for most of the preparations, especially for Science. I found most of the concepts to be a little tough, but with the app, I could clear most of the doubts," Rida shares.
"I would first watch the videos, then test myself with the quizzes. If I could clear the test and get good marks, I would know that I understood the concept. However, if I didn't clear the test, I would go back and revise that concept again," she adds.
Apart from the online preparations, Rida's teachers also would help her. In addition they also helped her get a better understanding of what she wanted, career-wise.
"I wanted to be a teacher, but my teachers wanted me to do more. That's when I decided to prepare to become a lawyer," Rida says.
While her family is really proud of her efforts, Rida feels like she could've done better. But she hasn't lost hope. She is currently pursuing her B.Com, and is already on her way to ace the Class 12 board examinations.
Like Jeevith and Rida, BYJU'S Education for All hopes to light up the lives of millions of underserved children across India. Together with the support of our NGO partners, we hope to reach more children in need with quality education, and help them scale and reach their dreams.
*Names changed for the protection of identity
---
BYJU'S Education for All is on a mission to empower 10 million children by 2025 with education. Through the BYJU'S Give programme, you can contribute to this movement and help children with quality digital learning. You can donate an old device, which we will refurbish, and then use the money raised to buy a new device. In case you do not have a device, you can also donate to an NGO partner, who will use the funds to buy devices for children.
In both cases, we will load our BYJU'S Think & Learn premium content onto these devices and distribute them to children in need.
Also Read: National Doctors' Day 2022: Young Arif Dreams of Making Healthcare Affordable