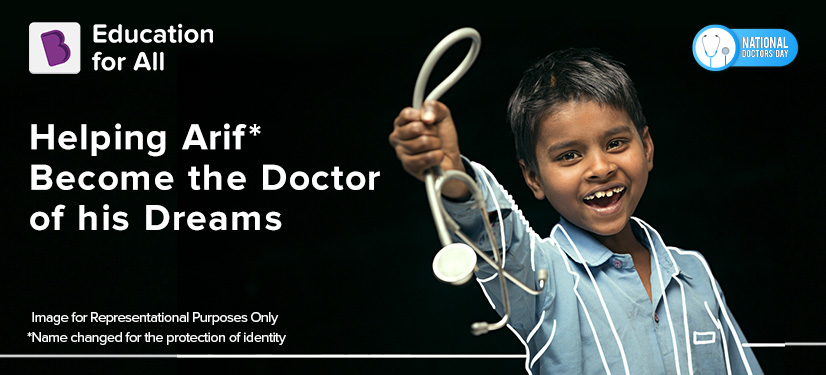 There are millions of children living in the slums of India living amid a slew of challenges within that community. Most of these challenges arise from extreme poverty, overcrowding, poor water and sanitation, limited access to basic health and education services, and other hardships like unemployment, violence, etc.
Arif* Ali, too, is one among these children who lives in the slums of India, situated at Khargone, Madhya Pradesh. He lives with his parents and three siblings. Like most of the residents of the slum, his family, too, lived in difficult conditions. His father, being the sole breadwinner, made a living working as a daily wages. His income is barely enough for the family to breakeven.
Arif sees many children in the slums suffering from many diseases and other health problems, an outcome of living in these unfavourable conditions. Most of these children are unable to get treated as their parents cannot afford it.
"I want to ensure that I study hard and become a doctor in the future. This way I can support all people in need with free treatment as good health shouldn't be a choice," says Arif.
So, to fulfil this dream, Arif has been working hard and preparing for the NEET exam. However, the school syllabus is not sufficient for the national level preparation. So, he and his father started looking for coaching classes and other supplementary courses. But because of the high fees that they couldn't afford, they decided against it.
Apart from his regular school schedule, Arif also attended self-defence classes conducted by the NGO Manthan Sahara in their locality, every week. During one of these sessions, the volunteers reached out to the children, offering them free BYJU'S courses by BYJU'S Education for All.
Arif knew this was exactly what he wanted, and enrolled both himself and his younger brother for the BYJU'S course. Once he received the licence, he set out for his preparation to become a doctor.
"The videos and interactive quizzes in the BYJU'S app are helping me a lot in my studies. Now, I can understand concepts well, and prepare better for the competitive exams," says Arif.
He now regularly studies from the app and is focused on achieving his dreams.
On National Doctors' Day, we hope to uplift Arif and more such upcoming doctors with the promise of education. We want to ensure that all their dreams of serving others come true.
---
BYJU'S Education for All is on a mission to empower 10 million children by 2025 with education. Through the BYJU'S Give programme, you can contribute to this movement and help children with quality digital learning. You can donate an old device, which we will refurbish, and then use the money raised to buy a new device. In case you do not have a device, you can also donate to an NGO partner, who will use the funds to buy devices for children.
In both cases, we will load our BYJU'S Think & Learn premium content onto these devices and distribute them to children in need.
Also Read: A Step Towards Fulfilling Jyoti's Dreams of Becoming a Doctor