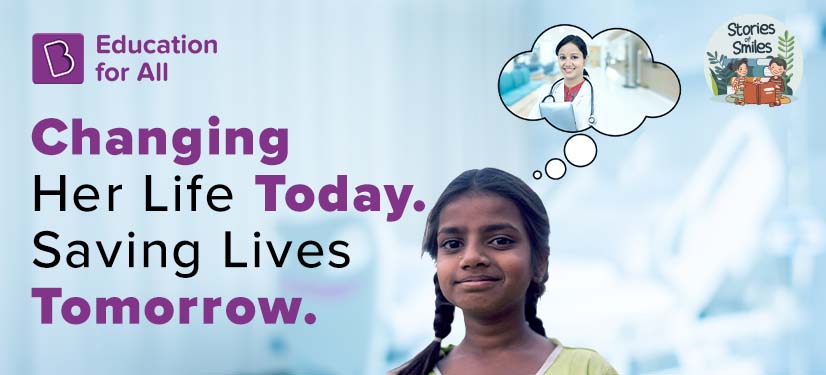 "I want to become a doctor when I grow up, and help my family out of our struggles," says Jyoti*, a grade 12 student, who dreams of a brighter future for herself and her family.
Jyoti hails from a humble hamlet in the Khargone district of Madhya Pradesh. She lives with her parents and two siblings.
While her father works in a private firm, and her mother is a homemaker. Her father's income is just enough for the family to break-even every month, catering to the house and food expenses.
Jyoti's village is a highly tribal-dominated area and most of the residents belong to SC/ST communities.
Due to the family's financial situation, she isn't able to attend a private school. She used to go to the Government School in the Bhagwanpura area but had to stop when the pandemic weighed down on the family's struggles.
While Jyoti wants to study well and become a doctor in the future, the day-to-day challenges at home and in her learning, pose major hurdles to her dream. But despite the odds, she puts in her best efforts to study and ensure that her studies don't come to a standstill.
While attending classes online, she also began looking for additional coaching and online tutoring. However, the fees for these courses are quite high, and she is unable to afford them.
One day, she reached out to a team coordinator of the NGO Manthan Sahara Gramin Evam Samaj Sewa Samiti, working in the Khargone District through the helpline number.
"I learned about BYJU'S Education for All, through which I could grasp concepts from experts free of cost," says Jyoti. "With this free course, I regained hope that I could continue studying and working towards my dreams."
She further shares, "I am now regularly learning from the app and the concepts are becoming clearer through easy video tutorials and education material. It is also helping me a lot in preparing for competitive exams."
BYJU'S Education for All has partnered with 115+ NGO partners like Manthan Sahara, who are further helping us make education accessible to children.
Like Jyoti, we hope to fulfill the dreams of millions of underserved children across India with free access to digital education.
---
BYJU'S Education for All is on a mission to empower 10 million children by 2025 with education. Through the BYJU'S Give programme, you can contribute to this movement and help children with quality digital learning. You can donate an old device, which we will refurbish, and then use the money raised to buy a new device. In case you do not have a device, you can also donate to an NGO partner, who will use the funds to buy devices for children.
In both cases, we will load our BYJU'S Think & Learn premium content onto these devices and distribute them to children in need.