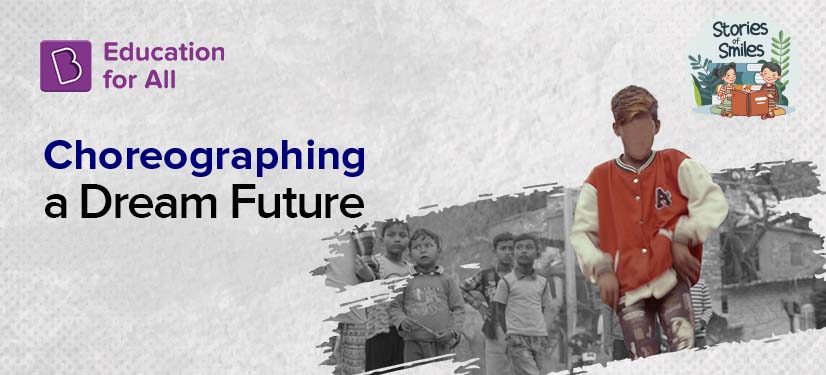 "First I will study and then become a dancer. When foreigners come to see my dance, they will talk to me in English. If I don't study, how will I respond to them?" says Rohan*, an 11-year old boy residing in Delhi.
While his face beams with ambition and hope, Rohan's childhood journey tells a darker story. Five years ago, he fell into the wrong crowd; his peers would coerce him to consume harmful drugs. He recalls waking up every morning with a sharp pain in his chest.
Unfortunately, drug abuse is not uncommon among young children like Rohan. According to an NGO survey, 63.6% of patients coming in for treatment were introduced to drugs under 15 years of age.
Despite being pushed down a dangerous path, Rohan dreamed of a better life for himself and his family. He often enjoyed watching dancing videos and learning the steps from his brother. 
Two years ago, when Ladli Foundation reached out to help him, Rohan found a new lease on life. He was determined to follow his dreams, and in a way, dance to the beat of his own drum.
"Kamini ma'am (from Ladli Foundation) encouraged me to dance and improve my talent. Then, I learned how to dance from my brother and even started playing volleyball. And those friends who used to do drugs, I reported them to the Police uncle. Now, I don't even hang out with them. Only dance is my life," shares Rohan with a twinkle in his eye.
Rohan's talent did not go unnoticed. Visitors would watch him groove gracefully on the streets to his favourite music, and even shoot his videos. This motivated him to do the same someday for another kid like him, looking for a chance.
Along with dance, the volunteers at Ladli Foundation encouraged Rohan to pursue a good education and gave him free access to BYJU'S learning content. 
"What I learnt when using BYJU'S is that we save a lot of time while learning. Just take your phone and learn. We also enjoy learning like this. Also, while we are at school, we give a wrong answer, and our teachers punish us. Who can punish us here?" he laughs.
While Rohan is now on the right track towards his future, millions of underprivileged children across the country are still led astray due to the lack of resources and awareness. 
BYJU'S Education for All has partnered with NGOs like Ladli Foundation with the hope of bringing these children back home to safety through the light of education.
*Name changed for the protection of identity
---
BYJU'S Education for All is reaching out to underprivileged children across India. Through the BYJU'S Give programme, you can contribute to this mission and help children with quality digital learning. You can donate an old device, which we will refurbish, and then use the money raised to buy a new device. In case you do not have a device, you can also donate to an NGO partner, who will use the money to buy devices for children.
In both cases, we will load our BYJU'S Think & Learn Premium content onto these devices and distribute them to children in need.
Also Read: Shaping Arvind's Dreams with Education