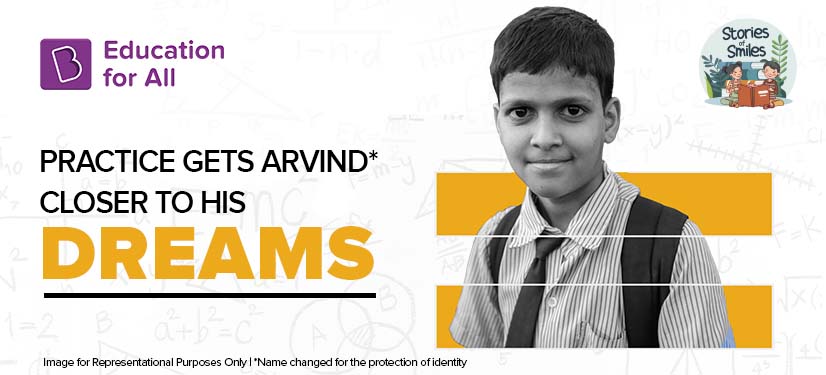 Almost every child dreams big and hopes to reach for the stars. However, not every child is privileged with all the resources and support that they need. Many children, in fact, do not fare well in school and are devoid of any additional support that could shape their future.
Such is the story of this 14-year-old from R.M.S. Colony, Gadhra, Jamshedpur.
"I hope to become an engineer one day, and come up with brand new innovations, which can change the world," says Arvind* Kumar, a Class 8 student of the Rajkiya Madhya Vidyalaya, Jamshedpur, Jharkhand.
However, Arvind's education has been taking a toll.
Ahead of the pandemic, Arvind used to be an average student and found Science and Maths to be very hard. He would often forget most of the concepts that he would memorise, and would end up making silly mistakes in his exams. While he depended on school for more improvement and learning, the pandemic brought his learning to a standstill.
At home during the lockdowns, he wasn't able to keep up with the learning and got little guidance from his parents. His father is the sole breadwinner and works as a mason at a nearby construction site; his mother is a homemaker. Both of them, being uneducated, were unable to support him in his studies.
However, Arvind found a little hope when the NGO, ALIG Society provided him with a device loaded with the BYJU'S Think & Learn Premium content. Since then, Arvind has been regularly watching the videos, taking bigger steps towards his dream.
"The teachers on the BYJU'S App have explained the subjects very well and it's quite easy for me to understand the concepts, especially now, ahead of my exams," says Arvind.
"Moreover, with BYJU'S, I can watch the videos numerous times until the concepts are clear," he adds.
Before his teachers begin a new chapter, Arvind goes through the BYJU'S videos once to be well ahead of his peers.
The daily practice problems helped him revise and strengthen the concepts along with increasing accuracy. Arvind's teacher shares that now, his silly mistakes have been reduced with constant practice.
Like Arvind, we at BYJU'S Education for All hope to support more children in their efforts and help them find their way to a brighter future.
---
BYJU'S Education for All is on a mission to empower 10 million children by 2025 with education. Through the BYJU'S Give programme, you can contribute to this movement and help children with quality digital learning. You can donate an old device, which we will refurbish, and then use the money raised to buy a new device. In case you do not have a device, you can also donate to an NGO partner, who will use the funds to buy devices for children.
In both cases, we will load our BYJU'S Think & Learn premium content onto these devices and distribute them to children in need.
Also Read: Student Today, Teacher Tomorrow: Rishika's Dream Roadmap