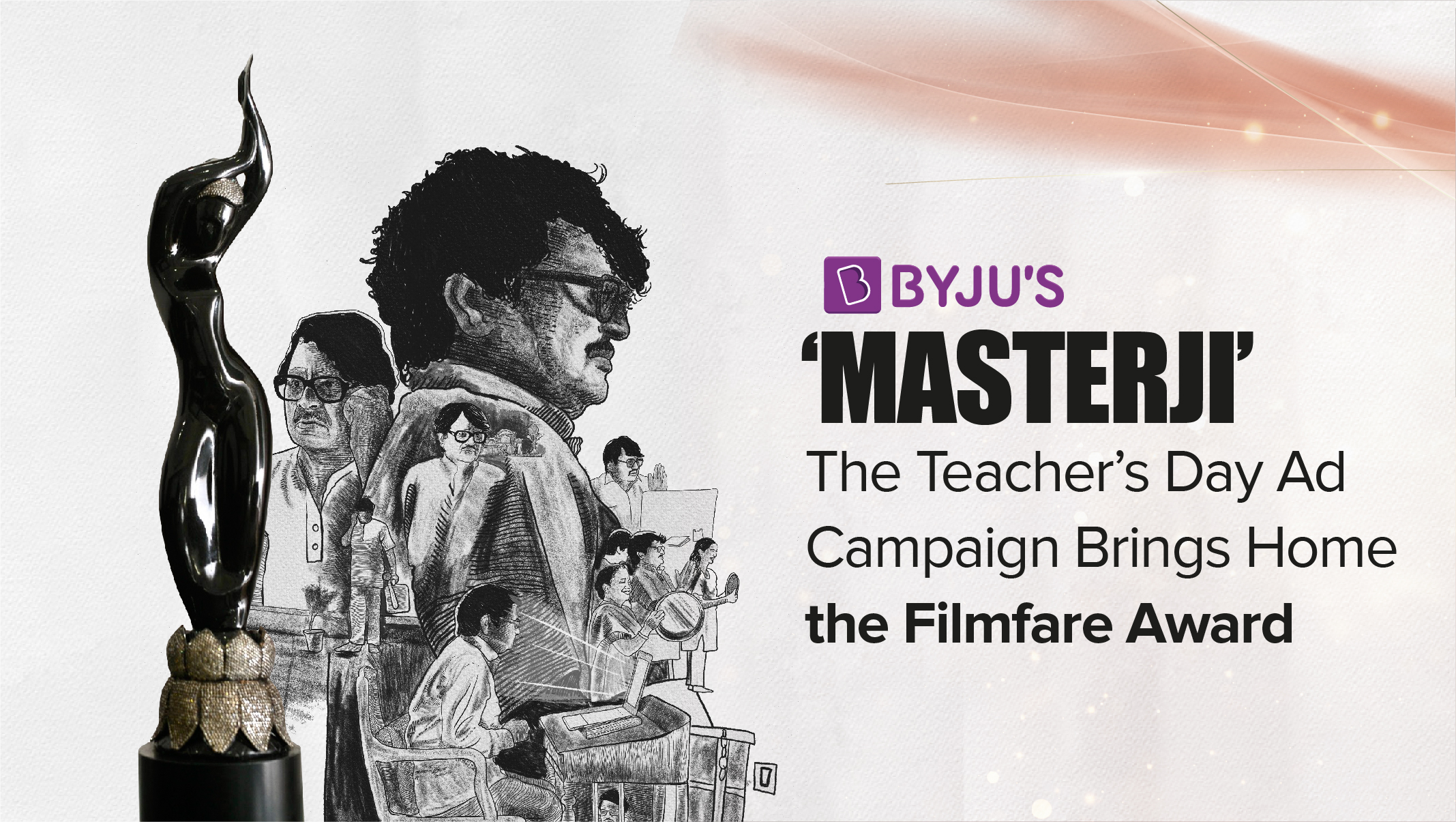 Every once in a while, you watch a piece of content that strikes a chord and changes your perception of a particular subject. BYJU'S Teacher's Day ad campaign titled "Masterji: A Teacher's Day Tribute" is one such piece of work. 
We are proud to announce that in addition to the string of achievements the film has already achieved, 'Masterji' has been awarded a new shiny black pearl – the People's Choice Award for Best Film at the 67th Wolf 777 News Filmfare Awards 2022 in the short films category.
Shot in Banaras, every aspect of this film – from the casting to the shooting, was handled by the in-house team at BYJU'S. The production was done with all heart, and the team is thrilled with the awards that came after. Along with conveying an important message, this short film has left an impression in the hearts of people around the world. Being recognized by the Filmfare fraternity is a moment of immense pride for all BYJUites. 
The Filmfare award follows on the heels of several other distinguishing awards bagged by the film, which include: 
A Silver Lion Award at the at the 2022 Cannes Lions International Festival 

4 Medals at the Spikes Asia Awards 2022

A win and a nomination at the Webby's 

The Bronze Pencil in the 'Moving, Image, Craft, Writing -Single' category at 'The One Show 2022' 

Two merits under Film Craft Copywriting category at the 2022 Clio Awards 

Best Short Film awards at the Roma Film Festival, Italy 

Best Music Score award at the Romm Film Festival, Italy
The film's essence is best captured by the phrase 'learning never stops'. The pandemic impacted the population across the globe. When COVID-19 brought the whole world to a standstill, teachers had to adapt and equip themselves to teach digitally.  This film beautifully encapsulates the journey of a 58-year-old biology teacher (Masterji) who found it hard to cope with this change and was on the verge of giving up. But a phone call from an old student reminds him of the value that a teacher adds to a student's life, and he embraces the change. This is a story of those teachers – their struggles and their triumphs. 
Have you watched this heartening tale yet? Watch below: