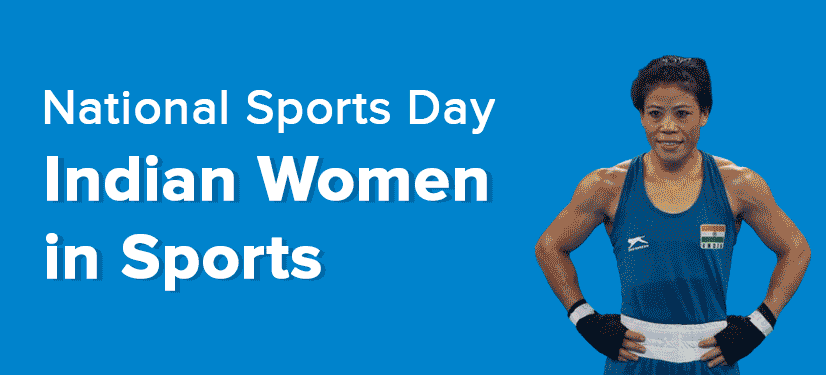 Did you know that ancient India was home to several games and sports such as Polo, Martial Arts, Chess, and Kabaddi? And over the years we've witnessed several sportspersons make us proud, on home ground as well as overseas. 
One such individual was Major Dhyan Chand Singh, also popularly known as the 'Wizard of Hockey'. He brought India glory by bagging three Olympic gold medals and scoring 400 goals in a career spanning two decades. In fact, owing to his legendary contribution towards international Hockey — his birth anniversary is celebrated as National Sports Day on August 29.
On this day, shifting the focus from the long-celebrated men of sports in India,  we'd like to mark this sporty occasion by bringing to the fore the unsung victors from women in sports. So gear up to meet five Indian women who are poised for success in 2020. 
Mangte Chungneijang Mary Kom

This lion-hearted, six-time World Amateur Boxing Champion has left no stone unturned on her journey to bring home glory. Rightly nicknamed Magnificent Mary, this mother of three is the only female boxer to have won a medal in each one of the first seven World Championships, and the only boxer ever to win eight World Championship medals. And it does not stop here, she also won a bronze at the Summer Olympics of 2012 in London and stands a good chance of winning at Tokyo 2021 too. 
Dutee Chand

This 24-year-old from Odisha hustled till she broke her own national record by clocking in 11.22 seconds in the women's 100m semi-finals at the 59th National Open Athletics Championships. She is also the third Indian woman to qualify for the Women's 100m event at the Summer Olympic Games and the first Indian sprinter ever to win gold in the 100m race at the Universiade in 2019.
Vinesh Phogat

She might hail from the Dangal-fame family but has several 'firsts' to her own name. Vinesh Phogat is the first Indian, woman wrestler to win gold in both the Commonwealth and Asian games. She was also the first Indian athlete to be nominated for the Laureus World Sports Awards. To top it off, she also became the first Indian wrestler to qualify for the upcoming Tokyo Olympics after securing a 4-1 victory against Greece's Maria Prevolaraki. 
Rahi Sarnobat

When Indians think of sports, more often than not they think of cricket. But Rahi Sarnobat is here to change that. It all began when she became the first Indian to qualify for the 25m pistol shooting event in the Olympics of 2012. She then went on to bag gold at the World Cup of 2013 and 2019,  and at the Asain Games of 2018, once again becoming the first Indian woman to do so. And now having qualified for Tokyo 2021, we can't wait to witness how she shoots for the stars! 
Harmanpreet Kaur

For centuries now the world has called cricket 'the gentleman's game'. But with Harmanpreet Kaur from the Indian women's cricket team winning one feat after the other, cricket has become a game for all. In 2018 she became the first Indian woman to secure a century in a Women's Twenty20 International match and in 2019 she became the first Indian to play 100 international Twenty20 matches.
The bottom line — 2019-2020 has truly been a year for women in sports to shine. And we hope to see many more young girls (and boys too!) actively participate in sports to stay fit and cherish the spirit of sportsmanship. Sports can be fun but did you know that there are a lot of unusual sports out there that you probably never knew about?
Did you enjoy reading this? Check out more such fun factoids from The learning Tree Blog:
Why does a cricket ball swing?
Why do some athletes collapse in the middle of a race?