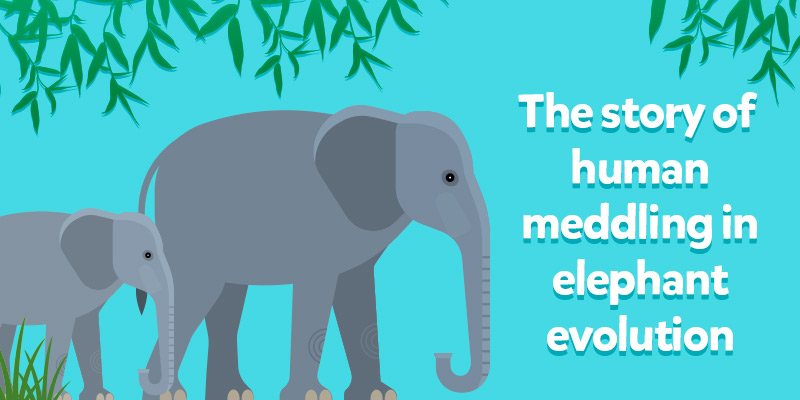 Travelling to outer space, discovering cures for deadly diseases, accessing the world's knowledge at our fingertips – some of the feats humans have pulled off are mind-boggling. Now, what if we told you, 'making elephant tusks disappear' is also part of the long list of human exploits. Surprised? 
After years of illegal poaching activities, more and more elephants in the wild are found born without any tusks. This World Elephant Day, let's look at how humans, unwittingly, have changed the course of elephant evolution.
What are elephant tusks?
An elephant's tusks are its modified teeth. They are essentially the incisors (teeth meant for cutting or biting) of an elephant's upper jaw. The grey giants use their tusks for various activities including digging, carrying objects and defending themselves. 
Interestingly, similar to how humans are left or right-handed, elephants are also left or right tusked preferring the use of one tooth over the other! Did you know that there were straight tusked elephants in the past?
Why are humans interested in elephant teeth?
Ivory is a white substance derived from the teeth and tusks of animals. As early as the Harappan civilization, artefacts made from ivory have been considered valuable. While ivory objects can be made from many different animal teeth, elephant tusks are the most popular choice. Most objects made from ivory were used for decorative or ornamental purposes.
The handles of spoons, gift boxes, pins and combs are just some examples of objects that were made from ivory. However, as valuable as these objects were, they came at a very high cost- the only way to obtain ivory is to kill an elephant and extract its tusk. In modern times ivory trading and poaching of African and Asian elephant tusks have been made illegal.
Then where did elephant tusks go?
Unfortunately, despite the ban on poaching elephants and trading ivory, many people still conduct these activities illegally. This prolonged illegal elephant poaching by humans has led elephants to evolve and become tusk-less. Here's how!
While most elephants are born with tusks, there is a small portion of female elephants who are born without tusks. Since these elephants are not poached (as they don't have tusks to make ivory objects), they end up surviving, reproducing and giving birth to more daughter elephants who, like their mothers, are tusk-less. Scientists first noticed this when a surprisingly large number of elephants were born without tusks in Gorongosa National Park in Mozambique, Africa. 
Some informal accounts from scientists say the tusk-less variant of elephants is able to function without their modified teeth just fine. Many Asian elephants, for instance, depending on their habitats, are often tusk-less. But how their African cousins will adapt with fewer tusks is yet to be studied. Meanwhile, we still don't know if more elephants will be born with or without tusks as governments across the world crackdown further on illegal poaching activities. 
This is also a reminder for us that human activities have far-reaching effects on the biodiversity of the planet. When we interact with the flora and fauna around us, we have the potential to change the course of species in lasting ways. Given this, caring for the environment (and the many beings it houses) responsibly becomes all the more important. Ever wondered what will humans look like in 1 million years.
Liked this? Read more here
Pandas Are Not Endangered and More Happy News from the Animal Kingdom
Can Your Cat or Dog Tell What Time It Is? The Answer Will Amaze You!
Collectively Speaking – Have You Heard of These Collective Nouns for Animals?