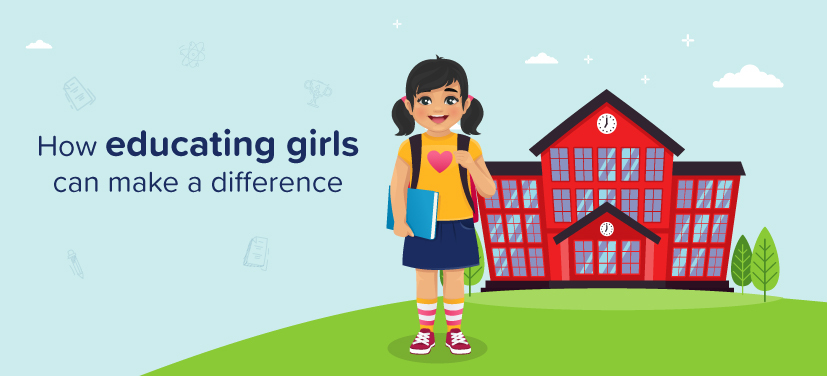 Mothers' Day, Fathers' Day, Friendship Day and Teachers' Day are among some of the most popular days of celebration that we know of. On these days we often shower the people in our life with wishes and messages to make them feel special.
Today is another such special day where you have the chance to celebrate an important person. October 11 is the International Day of the Girl Child and is celebrated the world over to commemorate the development of girl children. Why is this day celebrated? Let's find out!
What is the message of International Girl Child Day?
Over 25 years ago, in 1995, the United Nations organised a conference in Beijing to discuss the development of women. But this conference turned out to be a landmark event because, for the first time, countries on an international platform recognised that apart from women, girls face discrimination too and need help and support for healthy development.
As a result of this conference, the Beijing Declaration and Platform for Action came into effect where goals were set to improve the living standards of girl children globally in various countries. Some of the areas to be tackled were access to education, equal access to healthcare and ensuring physical safety for healthy development of the girl child.
To commemorate this effort, on December 19th, 2011 the United Nations declared 11th October as the International Day of the Girl Child. The objective of the day is to look at what we, as a society, can do to make sure the girl child is given the right tools and resources to prosper in life.
What is the theme for International Day of the Girl Child 2021?
The United Nations has declared this year's theme for International Day of the Girl Child as "My Voice, Our Equal Future". The changes caused by the COVID-19 pandemic have caused a lot of hindrances, especially for the girl child. By some estimates close to 11 million girls may not even return to school after the pandemic disrupted their schooling. To focus on these struggles, this year the United Nations is inviting people to talk about how girls can reclaim their right to an equal future.
Some of the key points they will focus on are how girls can learn new skills for a better future and how they can use their voice to bring about social change.
What is the progress made for the girl child?
The current situation for the progress of the girl child still holds a lot of room for improvement.
Here are a few important statistics:

But these statistics shouldn't be looked at as discouraging. Rather they show us the immense potential there is for growth. Here is what happens when girls receive equality just in the field of education:
When a girl goes to school for one additional year, the earning as an adult can increase by 20%.
Girls who have finished their secondary education are likely to earn twice as much as those girls who had no formal schooling.
When more girls complete secondary education, child marriages in the country reduce too.
What can you do?
When each of us takes a small step together, we can make a giant difference in society. One simple way in which you can help girls in need receive an education is by donating your old devices to the BYJU'S Give program. This program collects old devices, loads it with BYJU'S content and gives it to students in need. If you are interested in donating and making a difference you can visit the website here.
Likes this? Read more here!
World First Aid Day: How to Make a DIY First Aid Kit
15 Amazing Facts About The Indian Constitution: International Day of Democracy Special