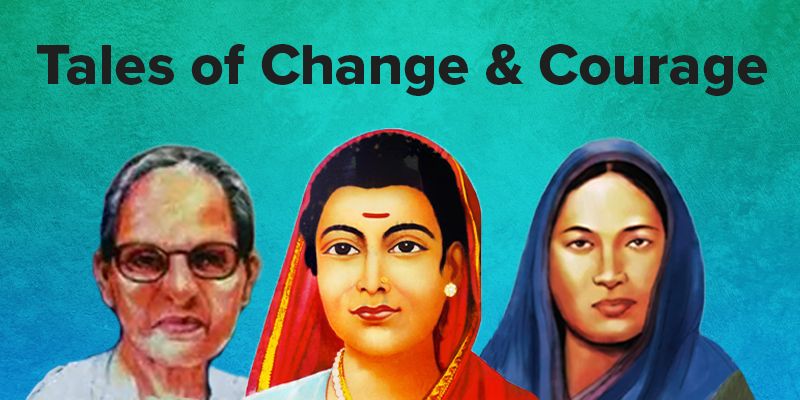 "We shall overcome and success will be ours in the future. The future belongs to us." — Savitribai Phule

On National Girl Child Day, commemorated by the Ministry of Women and Child Development, we go back into the pages of history to learn about how three marginalised women worked tirelessly to dismantle patriarchal structures so that the girls of today could break free from age-old barriers and lead independent lives.
Until the 1900s, education for girls was unheard of, let alone be considered a requirement. Only men from forward castes were allowed to gain knowledge and benefit from it. Women seeking education was a revolutionary act, and anyone who advocated for girls' right to education was ostracised.
These three visionaries — Savitribai Phule, Fatima Sheikh, and Chandraprabha Saikiani — were one of the first few women teachers who tirelessly worked for inclusive education of girls from all social groups. Being from marginalised castes and religions themselves, they were doubly disadvantaged and discriminated against throughout their struggle to bring about change. So who was Savitribai Phule?

Savitribai Phule
Savitribai Phule is known to be a legendary pioneer who led social reforms in a time when education for girls from marginalised communities was frowned upon. The injustices in her own life and society fueled her compassion to become a harbinger of hope for little girls. Having faced child marriage at the age of 9, Savitribai was not given the privilege to learn to read and write. However, with help from her husband, she completed her education. She even discovered her love for poetry and eventually wrote inspiring poems.
Savitribai enrolled in teachers' training programs run by an American Missionary in Ahmednagar and became the first Indian woman teacher and headmistress; she taught girls at the Maharwada in Pune. Later, along with her husband, she opened a school at Bhide Wada. By the end of 1851, Savitribai and Jyotirao were running three different schools for girls in Pune with a total of 150 students. In fact, the number of girls enrolled outnumbered the number of boys in government schools.
Savitribai faced terrible discrimination from the local upper-caste communities. It is said that she would travel with an extra sari as people would often hurl stones, cow dung, and verbal abuse at her. Despite the resistance, Savitribai instituted a total of 18 schools in marginalised neighbourhoods that welcomed children from different castes and religions, which sparked a gender justice movement in the country. 

Savitribai strongly advocated for women who fell prey to the evils of patriarchy. In 1852, she led and initiated the Mahila Seva Mandal to create awareness among women of their social status and rights. She organised a barber's strike against shaving heads of widows and fought for widow remarriage in 1853. After Jyotirao's death, she became the president of Satya Shodhak Samaj to work on social justice and empowerment of the downtrodden through education and awareness. Her groundbreaking work has influenced the struggle for the rights of women, Shudras, and Dalits from the 19th century until today.
Fatima Sheikh
A lesser-known revolutionary who has been sadly omitted from historical writings is Fatima Sheikh, who alongside Savitribai Phule was a trailblazer in providing education to girls from marginalised communities. Her contributions as an educator and a social reformer are undocumented, but the hurdles and injustices she faced as a Muslim woman to work for girls' education in a Hindu-dominated society in Pune must not be forgotten.
When Savitribai and Jyotirao Phule were asked to leave their home after opening a school for the marginalised, it was Fatima Sheikh and her brother Usman Sheikh who opened their doors for the couple. Fatima already knew how to read and write, and studied teachers' training with Savitribai to impart education to girls of her community.

Working alongside her brother and the Phules, Fatima Sheikh converted her residence into the first all-girls school in 1948. The first indigenous library was also opened on the same premises. Fatima worked in the school as a teacher and also to manage its affairs, despite the resistance from Hindu forward caste locals and the Muslim clergy who prohibited modern education for Muslim girls.
Fatima Sheikh went door to door to promote the work they were doing in the school. Most parents were reluctant to allow their daughters to get an education fearing societal backlash, but she persuaded them to safely send their children to her school.
Consequently, girls from all religions and castes were getting education under the same roof. This was considered an act of rebellion against societies that promoted caste segregation and prohibited intermingling among these groups.
Hence, two Bahujan women, Fatima Sheikh and Savitribai Phule together demonstrated the power and impact of collaboration between marginalised communities to spark a revolution.
Chandraprabha Saikiani 
Chandraprabha Saikiani was a feminist and a visionary ahead of her time. An Assamese freedom fighter, activist, writer, and social reformer, she was considered to be a pioneer in the feminist movement of Assam. In the early-1900s, when India's freedom struggle was on the rise, Chandraprabha began rebelling against the patriarchy and injustices in her hometown.
Chandraprabha and her sister, Rajaniprabha Saikiani would wade through waist-deep mud to attend a boy's school several kilometres away. Impressed by their grit, a school sub-inspector, Nilkanta Barua awarded them a scholarship to the Nagao Mission School. As her first act of rebellion, she protested against school authorities for not allowing a girl to stay in the hostel because she refused to convert to Christianity. Her protest ensured that girls of all religions got access to the school's facilities. 
Chandraprabha's learnings at school inspired her to propagate knowledge to the local girls in her village. At the tender age of 13, she would hold classes after school under a thatched roof. While her sister Rajaniprabha went on to become the first woman doctor of Assam, Chandraprabha dedicated her life to activism and social reform.

Saikiani began her career as a teacher and became the headmistress of a Girls' school in Tezpur. She even challenged the deeply ingrained patriarchal structures of the time by raising her son as a single mother. As a trailblazer of the feminist movement, she formed the Assam Pradeshik Mahila Samity for women's education and employment in Guwahati. Saikiani refused to accept social norms and openly spoke about the evils of child marriage, polygamy, and the discrimination of women at temples during a time when people were not accustomed to a woman speaking at public forums.
Chandraprabha was often seen riding a bicycle across the state to spread awareness of women's rights. Her spirited activism and resistance brought about waves of change in girls' education as well as in India's freedom movement. To honour her life's work, she was a recipient of the Padma Shri award for the year 1972.
Paving the Way for Generations of Girls
History has taught us that the privileges we enjoy today come from the sacrifices of those who braved their oppressors and fought for their rights. Savitribai Phule, Fatima Sheikh, and Chandraprabha Saikiani gave marginalised sections of society the gift of education so that they could emerge out of generational poverty and discrimination. If not for them, little girls wouldn't skip all the way to school and grow up to become CEOs of conglomerates. Their efforts in rallying many women behind them into the public sphere shed light on the issues girls and women face for generations to come.