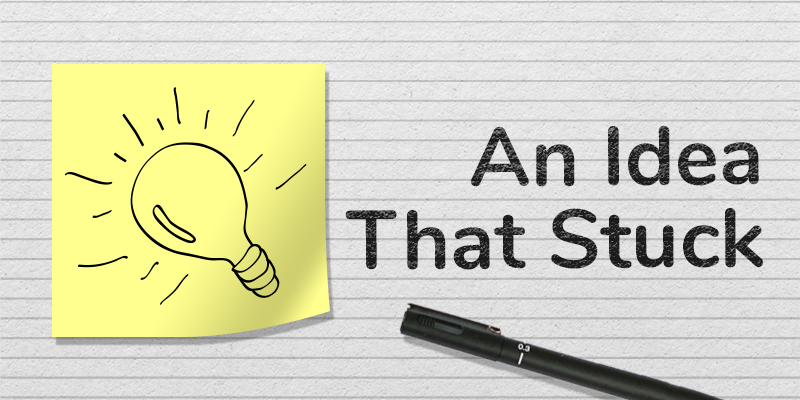 Post-it sticky notes are like a catch-all for our fleeting thoughts. You might have used them to remember important formulae and properties from your textbooks. Or, stuck them on your wall to remind yourself of the to-dos and goals you want to achieve. Most of us are aware of the many uses of this stationery item, but the lesser-known story is that of the genius who accidentally invented Post-it notes and how this ingenious product came into existence.
A Sticky Situation
In 1968, Dr Spencer Silver, a scientist who worked at 3M, was trying to develop a super-strong adhesive that could be used in aircraft construction. During his research, he discovered an unusual, super-weak, pressure-sensitive adhesive agent called Acrylate Copolymer Microspheres. Upon inspection, he found that it had some very interesting features — when stuck to a surface, it could be peeled off leaving no residue behind, and it was also reusable.
However, Silver had no idea what he could do with this discovery. But, he remained persistent and introduced the adhesive to other 3M employees through seminars, hoping that somebody could find a way to put it to good use.
Trial and Error
Five years after his discovery, Dr Spencer Silver approached the Products Laboratory Manager with a new idea. He suggested that they spray the adhesive on a bulletin board, and then one could stick pieces of paper on it without using tacks or tapes. The paper could be easily peeled off without any residue. While this was a decent idea, it would not be profitable enough since the annual bulletin board sales were fairly low.
The Eureka Moment
On a Sunday in 1974, another 3M scientist, Arthur Fry, was singing in his church choir. But, he could not deliver the perfect sermon because the little piece of paper that he had used to mark his hymns had fallen out. To solve this problem, he wanted a bookmark that would stick to the paper without damaging it. At that moment, he recalled one of Silver's seminars on the low-tack adhesive and had a stroke of genius. He thought, instead of sticking the adhesive to the bulletin board, they should put it on a piece of paper and then they could stick it to anything.
A New Way To Communicate
Arthur Fry partnered with Spencer Silver and began working on this new breakthrough. They faced a few hurdles initially — the earlier prototypes of the adhesive were made to bond better with the surface instead of the paper. They brought in two other 3M employees to produce a coating that could be added to the paper such that the adhesive would stay bonded to it and leave no residue on the surface it was stuck to.
Although this task was a success, at the time, the management at 3M did not believe it to be commercially viable and shelved it for years. But, these notes became increasingly popular internally within the 3M office and the employees loved using them.
"I thought, what we have here isn't just a bookmark. It's a whole new way to communicate." — Arthur Fry via post-it.com. 
Introducing Post-It Notes to the World
Finally, in 1977, 3M began running test sales for these notes under the name "Press n' Peel". It received mixed results and was overall an unsuccessful attempt. But, the new management at 3M believed in the potential of the product. A year later, they gave out large numbers of free samples to offices and individuals in Boise, Idaho as a part of the "Boise Blitz" campaign. This time, the reorder rate was over 90%, which was double the best initial rate of earlier 3M products. After this success, Post-it notes were released throughout the United States, and eventually, worldwide.
A Note-Worthy Achievement
Although many consider Post-it notes to be an overnight success, it took several years and a lot of luck to make it happen. In fact, even the colour of the notes was picked by chance — they borrowed scrap paper from a lab next door, which happened to be in the popular canary yellow colour.
Silver said that like many groundbreaking innovations, theirs was a product that nobody thought they needed until they did. Today, Post-it notes are used by offices, students, and individuals alike, and are one of the most loved stationery items on our desks. This incredible story shows us the power of persistence, the magic behind an idea, and the spirit of the people who brought it to life.
. . .
If this story inspired you, make sure you also note down your ideas on a Post-it sticky note. Yours could become the next biggest innovation if you put your mind to it. Tell us in the comments below what inspired you the most about this story.