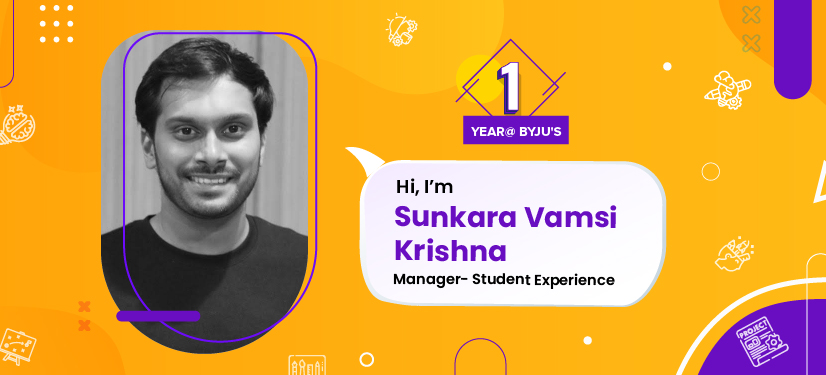 "Looking back at my first year at BYJU'S, I can vehemently say that there are lots of opportunities for everyone; how you use them is up to you. I had the freedom to question, explore, learn, and thrive. To this day, I continue to learn in whatever task, role, or project I am a part of, because I truly believe it helps me not only become a better team lead but will also help me grow in the future."
That was Sunkara Vamsi Krishna, Manager- Student Experience. He says that while his work pivots around people, products, and processes – people always come first. "I continue to be surrounded by talented people, who help me become better every day. We are an amazing team, one that has the passion to continue learning and delivering the best for our learners," he quips.
In this week's edition of People Who Make BYJU'S, Sunkara Vamsi Krishna gives us a glimpse into his first year at BYJU'S, what excites him about his role, and the biggest learnings in the past year. 
Also read: Compassion meets solidarity: BYJUites who volunteer for cause, not applause
Excerpts:
Walk us through your path to BYJU'S.
After completing my MBA in marketing and finance, I worked as a marketing intern and later as an operations manager at a company in Visakhapatnam. While I enjoyed working there, I still wanted to find an opportunity to expand my knowledge and skills to create a positive impact. It was then that I landed a role in the Student Experience team at BYJU'S. The profile tapped into my passion for managing a high-performance team of tutors and I could make a difference by ensuring a seamless learning experience for our students. 
What excites you about your role?
I'm inspired by all the enthusiastic BYJUites I work with, who are passionate about enhancing student experiences. We cater to a large number of students daily, and my team is constantly motivated to empower them to keep learning and take ownership.  
What have been your biggest learnings in the first year?
One of the key things I have learned over the last year is how to efficiently manage large teams. If your team comprises ten people, you can develop a personal relationship with each individual, where you understand the details of their work, what they are good at, and so on. But managing larger teams is a different experience altogether. 
I learnt how to effectively build a positive relationship across the team and foster open communication, where everyone is heard and valued across all levels.  · 
What do you consider as the highlight of 2022?
I was given the chance to take ownership of a pilot project just three months after joining, wherein we had to directly provide feedback to parents after every session. This was a huge project as my team was catering to 50,000 students daily. We coordinated with the tutors who were working remotely, to set up a process where we could provide regular feedback to parents without any delay. 
Doing this helped me understand how to manage an influx of information in a short period. 
Any tips you would like to share with aspiring BYJUites?
Learning to unlearn is one of the most important ways to excel! The more we are able to unlearn, the more likely we can learn and grow.