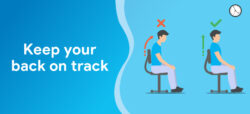 Work from home, webinars and web series — aren't these part of the 'new normal' now? 
While the new work regime does pack in a few advantages — less commute, more time indoors with furry friends, and the comfort of your favourite couch — there's a lot more than meets the eye. Spending a lot of time indoors has led to a sharp spike in our sitting hours. And that's where the problem lies, or should we say, sits? (pun intended)
If you have been waking up with new aches and pains in your body lately, it is a sign that you need to prioritise the health of your back. Try following these simple tips to rid yourself of spine-related discomfort. It will only take a few minutes but in the long run, these practices will help you combat the adverse effects of sitting for long periods. 
Start your day with stretching
Stretching helps to ease tension. Start with easy stretching exercises to heal the muscles that cause lower back pain, mid back pain, upper back pain, and shoulder pain. 
Perfect your posture
Ensure you are seated as far back in the seat as possible. Avoid hunching or leaning towards your screen while working. This will help you keep your spine straight.
Use a low-back support while sitting for long hours 
To ensure better support for your back, take a towel or a small pillow and place it in the small of your back.
Move once in every hour
Sitting in one position for a long time could lead to pain and soreness in the back. Try to make it a point to move your body every hour. You can take a small walk around the house or get up to grab a snack between your work hours. 
Correct your workspace setting
Keep your computer/laptop at an arm's length from you

The computer/laptop screen should be at eye level. If your work-from-home setup has a table, use books to elevate the screen or if you're working from a sofa, make use of cushions to position the screen at a comfortable level. 

Place your feet flat on the floor with your knees bent at a 90 degree angle

The back of your knees should be about three fingers away from the edge of the chair
Here are some easy exercises that will relieve you from back pain:
Shoulder blade squeezes: 
While standing or sitting at your desk, squeeze your shoulder blades together without elevating your shoulders. Hold the posture for 3-5 seconds and perform 15-20 repetitions. This can be done 1-2 times a day.

Chin tucks: 
While standing or sitting at your desk, bring your chin straight back toward your face, making a double chin. The chin should not move down towards your chest and your head should not move up or down. Hold for three seconds and perform 15-20 repetitions. This can be done 1-2 times a day.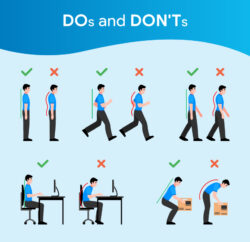 Hope you get your back on track and breeze through 'WFH' by following these simple tips. They require minimal effort but will go a long way in keeping you safe from future injuries and complications. 
Has sitting for long hours been a pain in your back?
Let us know in the comment section below how you take care of your spine and maintain a healthy and fit posture.