This summer, try your hands at some spot gardening. Here are a few tips on how we can grow our own little bunch of Microgreens with simple tips.
What are Microgreens?
Microgreens are baby plants of greens, herbs, and other vegetables that are packed with beneficial enzymes. They are easy to grow, economical, and require less space.
How are they different from sprouts?
Unlike sprouts, microgreens require sunlight and soil to grow. While sprouts are eaten roots-to-leaves, microgreens are trimmed at the base and consumed. You can have microgreens with your salad or use them as pizza toppings. 
What is the nutrient value of microgreens?
Microgreens outperform their mature counterparts in nutrients — they're rich in vitamins, minerals, and antioxidants. According to research, the nutrient levels in these baby plants can be up to nine times higher than those found in mature greens!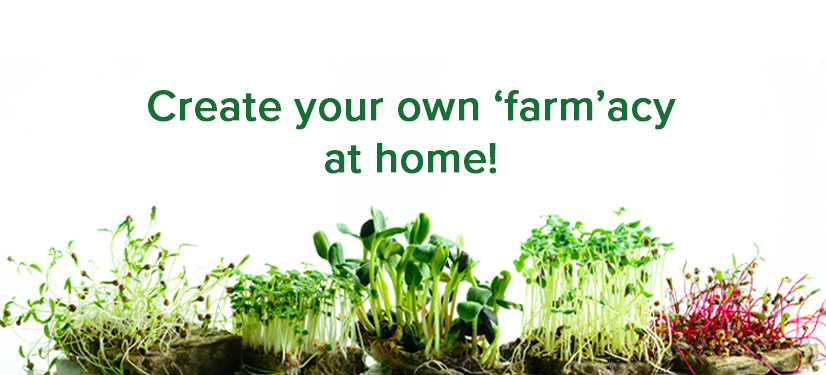 What do you need to grow microgreens?
A small container

Water

A spraying bottle

Common plants like cabbage, Mustard, Spinach, Greens, Chia, and Coriander to grow them 
How to grow:
Take a small clean container. Punch in a few holes at the bottom of the container for the water to drain

(You wouldn't want to kill your baby greens, right?)

Cover the bottom of the container with an inch of moist soil and level it well

Scatter your seeds onto the soil and gently push them in

Add a thin layer of soil and dampen it a little using a spraying/spritz bottle

Dampen the soil using a spraying bottle once or twice a day. Make sure you don't completely wet it

Wait for 3-7 days for the sprouts to appear

Make sure your baby greens get enough sunlight to thrive

You know your babies are ready when true leaves appear. The size of the plant is usually 2-inches tall

When it's ready, crop the greens at the soil level
Rinse your harvest and tadaa! You're all set to eat them! 
To encourage BYJUites to grow greens at home, we conducted a virtual microgreens workshop last week. It was endearing to see more than 80 plant enthusiasts join the session with their folks and friends.
Have you tried growing Microgreens at home? Let us know in the comments section below.