Earth Day is celebrated on April 22 every year. However, 2020 seems to be a little different. 
The world-wide lockdown owing to the novel Coronavirus has given mother nature a chance to bloom again. Be it cleaner rivers, better air quality or liberating wildlife — the lockdown across the world seems to have had a positive impact on the environment. But think about this: it took a PANDEMIC and absence of MANKIND for the environment to BREATHE again! 
Seems alarming, right?
We can sure do a lot in making the world a better and greener place to live in, but we suggest starting from the comfort of your four walls.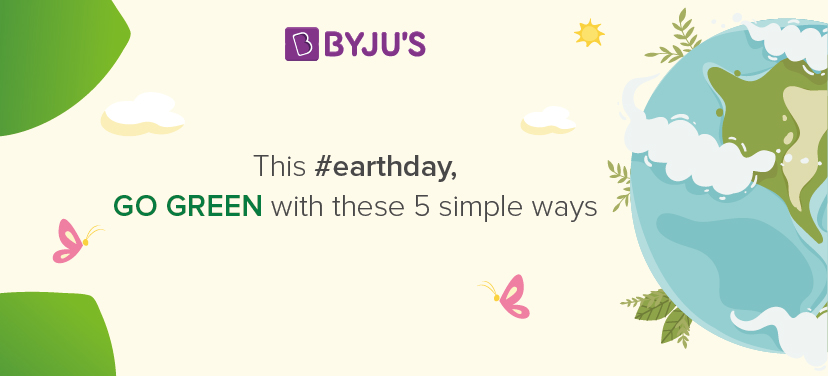 Be a Plant Parent- Plants improve air quality. It's a great way to pick up a new skill and be eco-friendly at the same time.
Compost your kitchen waste- Don't waste your kitchen scraps and leftover food — turn them into compost instead! 
Identify your composting spot– it can be your kitchen, balcony, sink or outdoors
Segregate your waste into wet (vegetable and fruit peels, eggshells, tea leaves etc.) and dry (newspaper, packaging, dried leaves and so on). Mix both at alternate levels in a container
Add semi-decomposed material like buttermilk or cow dung to start the process
Wait for two months and — voila! — your home-made manure is ready!
Let the sunshine in- 
This is the easiest way to make your home a greener place. Sunshine is the cheapest and the most environmentally-friendly source of heat and light. Open your drapes and curtains and let the solar energy warm and brighten your home naturally.
Say yes to durable goods-

 
Starting this World Earth Day, ditch those plastic and paper cups for ceramic ones. You can also choose reusable food containers over plastic wraps and avoid using packaged drinking water.  
Use 15-minute rule for light bulbs-

 
If you are going to be out of the room for 15 minutes or more, turn the lights off. Super easy!
And by doing this over time, you save a lot on energy and water bills! (Win-win situation, isn't it?).
This Earth Day, let's pledge to stop taking the planet for granted.
We would love to know the eco-friendly steps you have been taking. Join us for the Earth Day celebration and let us know in the comments section below.
Stay home, stay safe!