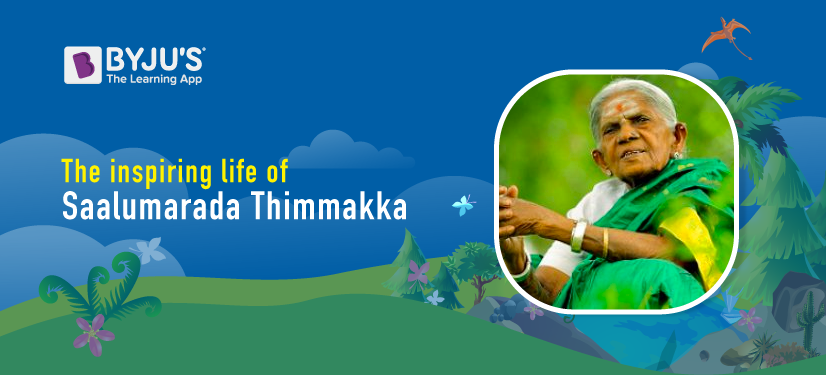 Earth Day is celebrated on April 22 to promote harmony among various beings living on our planet.  
"He that plant trees, loves others besides himself."
                                                                       – Thomas Fuller, Writer
While growing up, we were taught about the significance of preserving mother earth. Be it at school or home it was ingrained into us how simple habits like closing the water tap after use, replacing plastic bags with paper bags, and planting saplings could help our planet. As grown-ups, perhaps we don't take these simple practices seriously. But amidst us are green warriors like centenarian environmentalist Saalumarada Thimmakka who is doing her bit for the well-being of the planet.
This World Earth Day, presenting to you the life and work of Padma Shri award winner Saalumarada Thimmakka. Born in a poor family in Gubbi village of Tumakuru in Karnataka, Thimmakka did not have the privilege of going to school. She started working in a quarry at a young age and was soon married to Bikkala Chikkayya, a labourer from Hulikal village. Being childless worried the couple. That's when Chikkayya came up with the brilliant idea of planting saplings and nurturing them as their own children.
Eventually, this became the couple's sole mission. They, together, planted about 385 banyan trees along a four-km stretch from Hulikal to Kudoor.  After Chikkayya's death, Thimmakka continued the noble deed of planting trees. Her outstanding work earned her a name Saalumarada (meaning row of trees in Kannada). Also, she's a recipient of various awards and has been listed in BBC's most influential and inspiring 100 women.  
Thimmakka's story is certainly inspiring. Taking a step towards caring for mother earth are a few BYJUites who are adopting 'Reduce, Recycle and Reuse' mantra in their lives.
"A few months ago, I decided to shift near my office so that I could walk to work. That way I would reduce my carbon footprint and at the same time get some exercise. This has really worked for me. I'm glad to be doing this for my planet." – Sumit Nair, BYJU'S, Bangalore Office
"Off late, I've started borrowing, donating and recycling-books from libraries, giving away my old electrical appliances and using recycled paper bags. I'm happy to be contributing to making the earth a better place to live in." – Damanpreet Shakti Rastogi, BYJU'S, Delhi Office