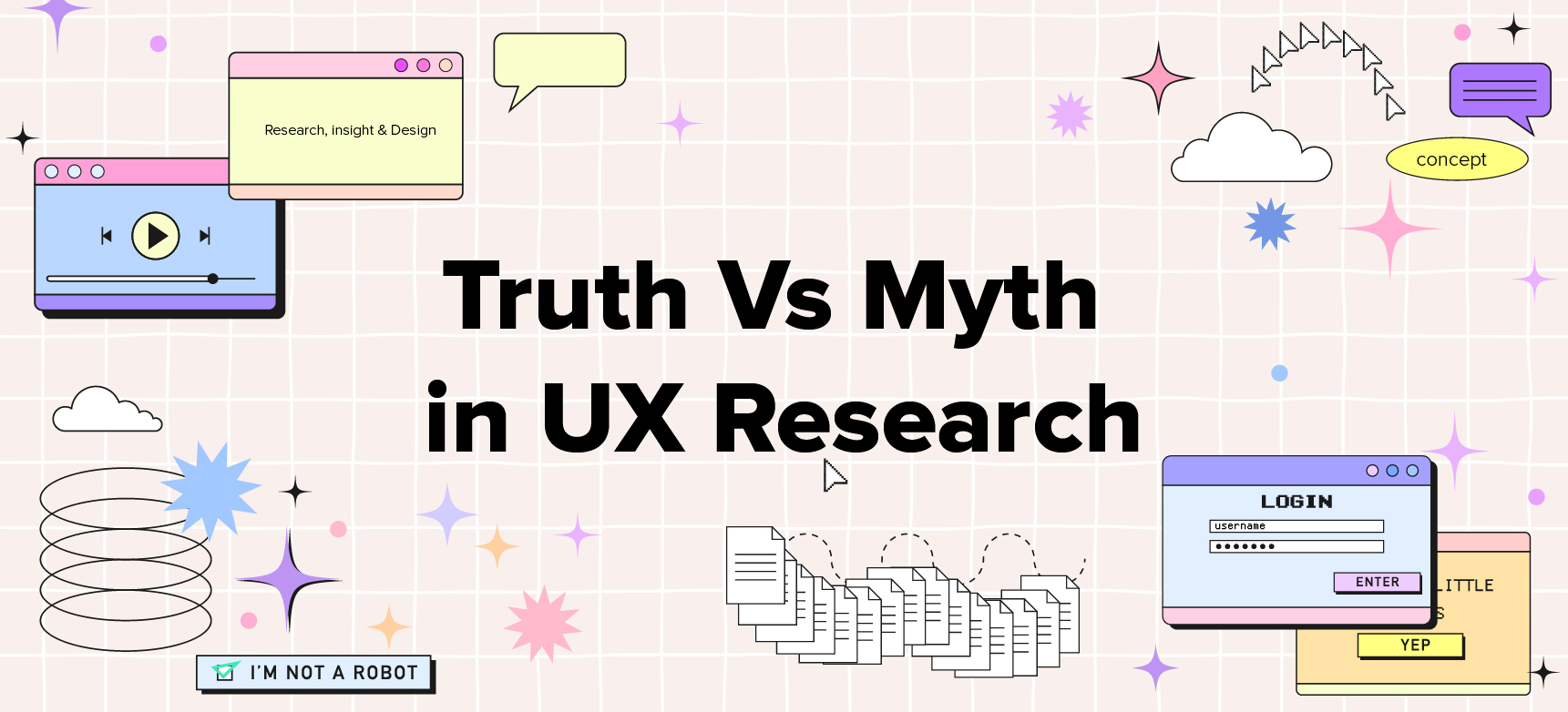 Are UX research and UX design the same thing? Can someone with no research background join the field? Does a good product design certify a good user experience? If these questions pop up in your mind, you are not alone. In our new series 'Truth Vs Myth', we are here to answer all the burning questions related to a career in user experience (UX) research. 
In the first edition, we have our Principal UX Researcher, Abi Paul and UX Researcher, Rhituja Shende to weed out some of the myths and state some truths related to the world of UX research. 
Also read: How a Chance Encounter Brought Nikita Valluri to BYJU'S UX Research Lab
Excerpts:
A degree directly linked to UX or graphic design is necessary to work in the field.
Abi: No, a background in UX or graphic design is not mandatory. But if you do come from a design background, you will understand many design principles and that's definitely a bonus. However, UX research goes beyond aesthetics and is concerned with research-driven functionality to create a user-centric platform/product and deliver a seamless user experience.  
Rhituja: You don't need a specific degree to be a UX researcher. But you should have an understanding of people's behaviour. I come from a furniture design background and after my graduation, I landed a role as a UX researcher at BYJU'S. In fact, we have people from different backgrounds such as psychology, sociology, academic research and communications. So a firm understanding of any of these will help you segue into the field of UX research. 
UX design and UX research are the same thing.
Abi: It's a myth. While these aren't two entirely separate disciplines, UX research is pointless without a UX designer. A UX designer is responsible for developing a customer-friendly product and for creating a customer-friendly product, it helps to understand customers. That's where UX research comes into play. It is the initial stage of developing a product. Before the design stage, we need to understand who we are designing for.
User research is just asking people what they want.
Abi: While a part of UX research involves asking users what they would like to see in a product, a lot of it also involves understanding users and learning about their personas, preferences and experiences on your platform.
Rhituja: More than asking people what they want, UX research involves understanding the challenges that the end-user might encounter. A UX researcher will use different methods, strategies, and techniques to learn the user's problems to generate insights and turn those insights into ideas. Then, they need to communicate those findings and ideas to other teams to implement the product's final version.
User research is a time-consuming process
Abi: UX research is not time-consuming rather it is a continuous process. People tend to think that the entire process takes forever to complete and this is why it is perceived as being time-consuming. This is because people's expectations tend to change with evolving needs. So in order for a product to be relevant to its users, UX research has to be a continuous activity. 
Rhituja: There are ways to fit UX research into your time and budget. This can be achieved by being strategic with your research activities, collaborating with key stakeholders, and prioritising the biggest usability issues first. This way you can achieve great results.
Good product design means a good user experience. 
Rhituja: This is a common misconception about UX research. Just because something is designed well, does not mean that the user will be able to easily navigate the product. It is important to incorporate the needs of the user into the design process, to ensure that the product is easy to use.
Abi: Again, another big myth. If the product does not solve the problem, and users do not have any motivation to use it, it is not valuable no matter how good the design is. A well designed but not functional product won't satisfy users' basic needs.    
Have any questions? Then ask us in the comments below and we will be happy to answer them.
Like this story? Head to Life at BYJU'S to learn more about our work, people, and the stories that make us unique. To explore job opportunities, check out Careers at BYJU'S.