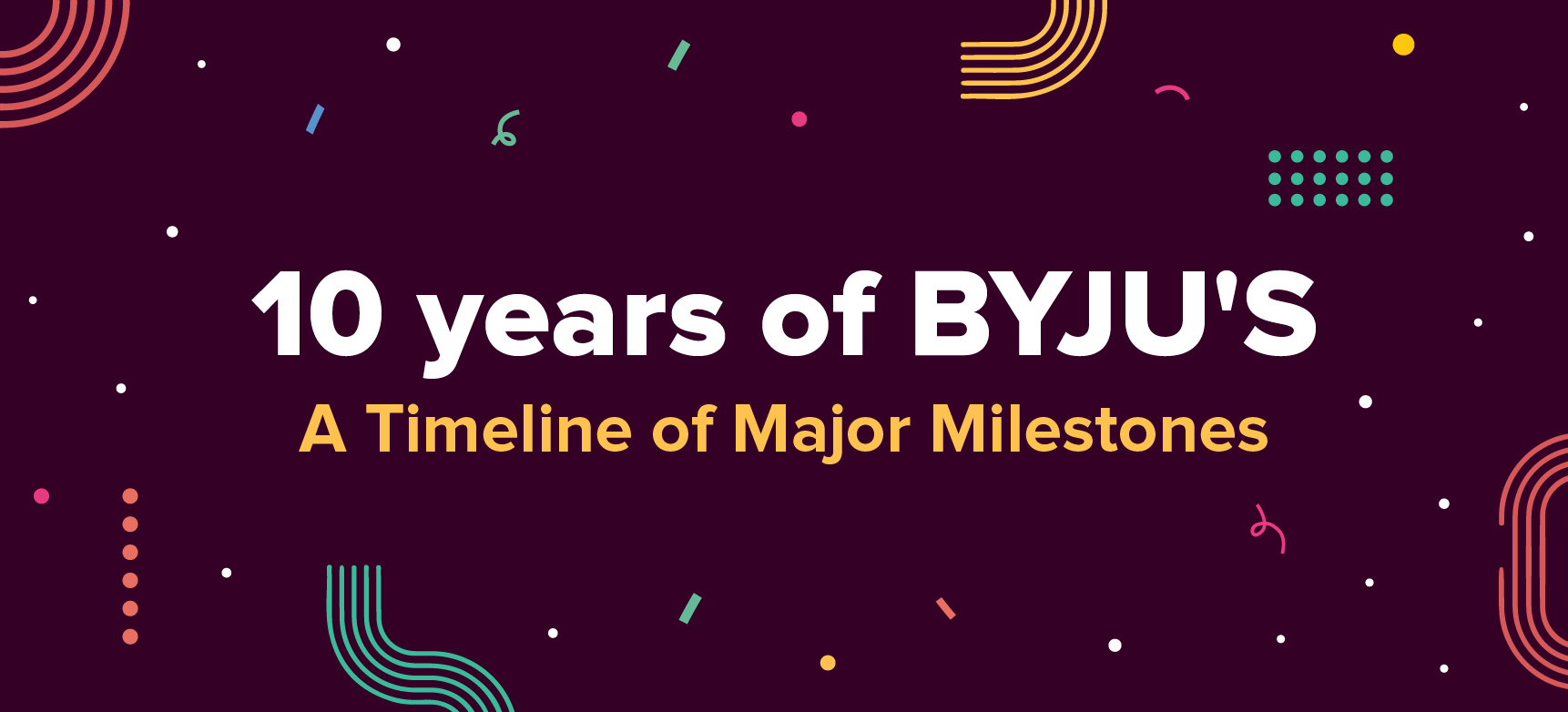 It's been 10 exciting years for BYJU'S, innovating and building cutting edge products and unique learning experiences that make children fall in love with learning. A milestone that wouldn't have been possible without BYJUites who've shown us that there are infinite possibilities when you step out of the box and innovate.
Behind our achievements, it is the brilliance and creativity of BYJUites, who are working towards our mission of making learning fun and interactive for students across the globe. 
As we celebrate our 10-year anniversary, let's take a look at BYJU'S evolution through the years. 
A throwback at BYJU'S major milestone
2011 – Think & Learn Pvt. Ltd was founded with a special focus on the K-12 segment. 
2012 –  Awarded the fastest-growing tech company in India by Deloitte Technology Fast 50 India programme.
2015 – BYJU'S – The Learning App was launched. Within three months of the launch, we had more than two million registered users.
2016 – We were the first Asian company to raise funding from Mark Zuckerberg and Priscilla Chan's investment arm, The Chan Zuckerberg Initiative. 
2017 – Became a part of a Harvard Business School case study. It illustrated how BYJU'S is leveraging technology to impact students.
2017 – Shah Rukh Khan became the brand ambassador for BYJU'S.
2018 –  Became the first edtech unicorn. We were also among the top 5 most valuable startups in the country.
2019- BYJU'S became the official sponsor of the Indian Cricket Team. 
2019 – Launched Disney BYJU'S Early Learn app in partnership with Disney
2019 – Acquired US-based gaming platform OSMO
2020- Initiated BYJU'S Education for All initiative to empower 5 million children from underserved communities with digital learning by 2025. 
2020 – Acquired coding platform WhiteHat Jr.
2020 – BYJU'S became a decacorn.
2021 – Launched online tutoring programme BYJU'S Classes with two teacher advantage.
2021- Welcomed Gradeup, Epic, Great Learning, Aakash Educational Services Ltd. and Tynker to the BYJU'S family.
2021 – Inked a global partnership with the International Cricket Council.
2021 – BYJU'S became India's most valued startup
2021 – BYJU'S featured in TIME100 Most Influential Companies for the year 2021
 As BYJU'S continues to evolve, we will keep reinventing and reimagining learning to bring the best products and learning experiences to our students. After all, it is their creativity and curiosity that push us forward. 
Here's to another decade of learning, unlearning and relearning!
Also Read: Our ConsisTENt series where BYJUites share how the company has evolved over the years 
Like what you read? Head to Life at BYJU'S to learn more about our work, people, and the stories that make us unique. To explore job opportunities, check out Careers at BYJU'S.