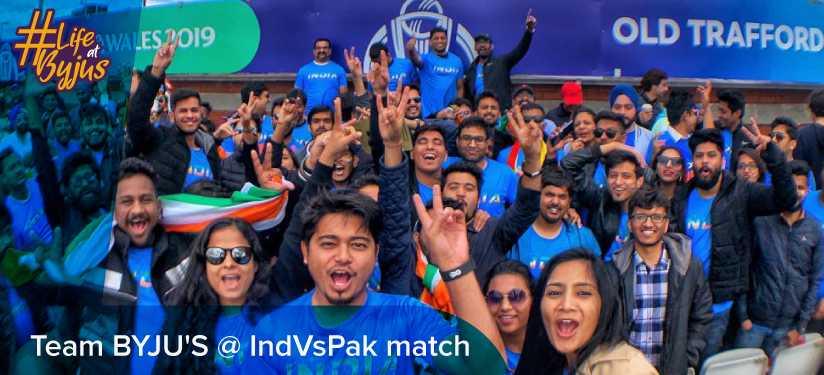 A cricket match between India and Pakistan is more than just a game. It's a FEELING. Ask any cricket fans they will tell you it's a MUST WATCH GAME.
Now picture this – you get a chance to witness a thrilling India vs. Pakistan match at the ICC World Cup 2019 at the historic Old Trafford Stadium in Manchester. Yes, this dream came true for top performing BYJUites, as they cheered for Team India right from the stands of the Old Trafford Stadium.  A 'pinch me' moment for many, this trip was nothing short of amazing. Well, that's not it. They also got a chance to spend two wonderful days in London. Visiting the iconic landmarks in London – Buckingham Palace, London Eye – and cruising through the River Thames, taking pictures at the red telephone booth, BYJUites did all things touristy. 
Catch a glimpse of  all the fun BYJUites had in Manchester and London
Thrilled about his recent trip, Harsh Vardhan Rana, Senior BDA, Mumbai said, "I had a great experience on this trip with fellow BYJUites. I genuinely feel that BYJU'S has helped me live my dreams. This trip was definitely more than what I expected and I came back with a lot of positivity and some new friends. The best part has to be the cricket match between IND and PAK where we all cheered for Team India to our heart's content.  Hands down, this was a lifetime experience for me. Thank you BYJU'S.
"You know how you have travel dreams. For me watching the India-Pak match live was one of them. I still can't believe this dream of mine is ticked off from my bucket list" said, Saurabh Mishra, BD Manager, Bangalore.  I would like to thank BYJU'S for making this happen for me and many others. Everything that we experienced during this week-long trip to London and Manchester was memorable.